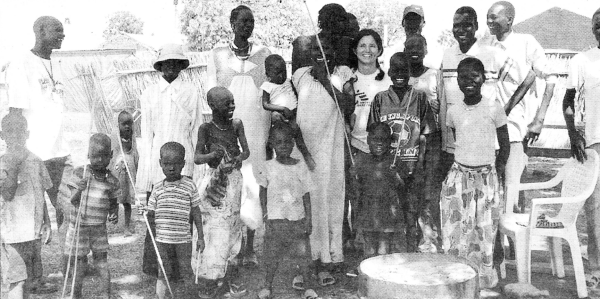 Patients in the TB compound.
A LOCAL doctor who volunteered to help victims of war, epidemic and disasters has told how she found herself caught in cross fire between rival groups during a mission to Africa last year.
Laura Rinchey (31) from Drumard Drive in Ballymacoss worked with five different projects between March and December last year as part of Medecins Sans Frontiers, a medical humanitarian organisation that provides independent relief to victims of war, disasters and epidemics.
It was while staying in a garrison town in Nasir in Ethiopia she found herself in the gravest danger.
Despite having extensive training as a doctor and for the trip, nothing could have prepared her for what she was about to experience.
She had been treating patients suffering from TB, Kalazhar, blood infections, malaria, malnutrition and even hot wounds.
One evening shooting began and at first she thought it was fireworks. She was told to remain indoors until it was safe. A market trader was killed by soldiers during the shooting which lasted an hour. It even continued after the funeral of the trader.
Laura was in the hospital ward treating patients when the shooting started and was told to lie on the floor.
"I thought I was going to die and that was it," said Laura. "I remember being on the floor and thinking if I die I die - what can you do. It was really scary but we tried not to panic.
As it was too dangerous for the team to remain they were forced to vacate the area, but not without further trauma when it took the crew of their aircraft some time to find the landing strip.
In Wudier, also in Ethiopia, Laura faced other horrors which were equally devastating.
She was working in-a hospital where there were many deaths - mostly children dying from simple blood disorders.
She can clearly remember one instance where a young girl needed a blood transfusion and it proved impossible to find a donor. By the time one was located the little girl had died.
DANGEROUS
"What was so frustrating was that it could have been avoided," she said. "Many would leave it too late to bring patients to the hospitals and there was little we could do. "
Laura said she would like to return to Africa to work in the field of obstetrics.
"Its something I always wanted to do and I would encourage anyone with the chance to work with an organisation like Medicins Sans Frontiers to do the same," she said. "I feel it's something I was called to do."
Doctors' vital work in Sudan danger zone

| | |
| --- | --- |
| | |
| A child who suffered from snakebite that the team were treating. | Laura and her team evacuating the area |
LAURA Rinchey took part in a number of different projects with MSF in Southern Sudan, last year.
Most of her time was spent in Nasir, an old garrison town which is several days (African) walk from the Ethiopian border and occupied by soldiers.
She also spent time in Leer with the cholera team, where the MSF has a hospital with outpatients, TB and surgery departments. Many patients are transferred to this site for operations.
During her nine months Laura was also located in Wudier in Ethiopia. Though a smaller project than others, it had the advantage of other Aid Agencies such as Oxfam also being stationed in the area.
The team dealt with an increase in the number of diarrhoea illnesses and malnutrition cases. They often had to contact Oxfam to obtain community education for those areas or to ensure access to a water pump.
TWO
Two other MSF projects Laura did not get the chance to work with were in Malaka, the Southern capital, where much of the work was transferred to governmental agencies and Piere, which had to be evacuated frequently due to instability.