by JENNY MONROE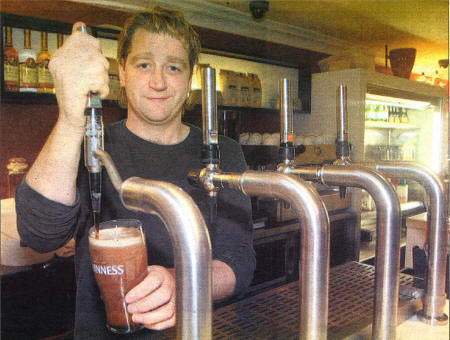 Derek Patterson of Barretro which is back with a new look following a devastating fire six months ago.
BARRETRO is back six months after the Hillsborough establishment was engulfed in flames in an arson attack.
The Patterson family opened the doors of the popular bar and restaurant last week and were delighted by the number of people who flocked to see its brand new look.
As the official opening night got underway last Thursday, owner Derek Patterson said he and his family were touched by the support shown by past patrons and the "good will of the community.
Looking around the bar it is hard to believe that such a spectacular transformation has taken place in a matter of months. Back in May Mr. Patterson said Barretro would "bite back" and he has kept his word.
"The turnaround is quite an achievement and I think the hard work and determination has paid dividends with the smart new look we have achieved. It really has something for everyone and is a true Euro bar with an Italian chic theme," he said.
"The Retro experience now consists of an early morning cafe culture progressing into a light snack or lunch where all the family are welcome. There is an underlying importance that children are made to feel special."
He continued: "From the response so far it is clear that Barretro will continue to be one of those venues where you can talk and socialise with friends, boogy if you wish or nip outside for a quick puff in classy outdoor surroundings."
Clearly proud of the bar's rise from the ashes Mr. Patterson said he was looking forward to being able to offer his customers Italian influenced cuisine.
"It really is an exciting time for us and I hope our customers will appreciate the all round casual approach to the entire dining experience where you can relax and put time at the back of your mind just like you would on holidays.
"It's good to be back."