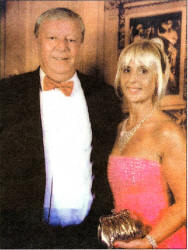 Bertie and Heather Law
HUNDREDS of people travelled to Hillsborough last Friday to pay their last respects to Bertie Law, one of Lisburn's best known businessmen who passed away peacefully at his Harry's Road home on January 22 after a long illness.
The village's Presbyterian Church was filled to overflowing for the moving service which was followed by burial at Lisburn New Cemetery.
Mr. Law was well known as Company Director of local building firm W. J. Law. However, he was also a former Irish national rally champion and has been described as one of Northern Ireland's 'larger than life' motorsport characters. Through the late 70's and 80's he was one of the major players on the Irish rally scene, a devotee of Vauxhall Magnums and Chevettes as driven by his rally hero, seven-times Circuit of Ireland winner Jimmy McRae.
He took the Irish national championship in 1983 and '84. Indeed, his proudest moment came in 1984 when he won the Burmah Rally in Lurgan Park driving the distinctive silver HSR Chevette which had originally been McRae's Dealer Team Vauxhall car from 1980.
He won that day after a nail-biting duel with Kenny McKinstry, the all-time Lurgan Park champion during which he achieved 10 victories.
Kenny McKinstry remembers it well: "He beat me by one second," he recalled.
"It was a great battle, a second here or there between us every stage but he got me in the end - but then we had a lot of great battles down the years, both in rallies and rallycross.
"One of the best rallycross races I ever had was with Bertie at Kirkistown, bumper-to-bumper all the way until I squeezed past him on the last lap.
"He was a wonderful character as well as a great driver," added the two-time Irish Tarmac rally champion.
Mr. Law was runner-up to McKinstry in the 1987 and '88 Northern Ireland rally-cross championships and competed with distinction at many of the major internationals like the Circuit of Ireland, Ulster, Donegal and Cork rallies in a career that was marked by his humour and his sportsmanship as well as his successes.
He is survived by his wife Heather, sons Alan, John, James and Victoria, daughters in law Gillian and Christine and his father in law Maurice. He is also survived by his brother Brian and sister Blanche.
The family asked for no flowers at the funeral but said donations should be sent to The George Best Liver Foundation c/o Ronnie Thompson (funeral director), 20, Ballinderry Road, Lisburn. BT28 1UE