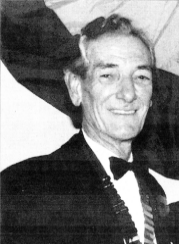 A NORFOLK man who brought his young family to live in Lisburn 36 years ago and served twice as President of its Lions Club made his final journey to Roselawn Crematorium last Wednesday after a packed service of thanksgiving for his life in the city's First Presbyterian Church.
Minister the Rev. John Brackenridge told the congregation Bill Richer would be remembered 'as a gentleman' by all who knew him and said he would be sadly missed as 'a loving husband to his wife Irene and a special Dad to his son and daughter Stephen and Johanna.
Rev. Brackenridge also paid a warm tribute to Bill's commitment to his church.
He recalled how although born an Anglican he became a member of the congregation and went on to be elected and ordained to the eldership in 1985.
"Bill's heart was in his congregation's commitment to building good relations in Lisburn," the Minister added reminding those present he had edited 'Despair to Resurrection' which was published in 1988 and serves as the history of First Lisburn.
Speaking to the Star earlier this week Bill's widow Irene, who is well known in both scouting circles and for her work with Leukaemia Research, said her husband had been 'a Lion to the core' and described the local Club as 'one of the loves of his life'.
She recalled how Bill, who took the Lions motto 'We Serve' very much to heart, had been instrumental in conjunction with Lisburn Council in starting the Club's annual firework displays in Wallace Park and had also played a major part in other pyrotechnic events in the city.
She said her husband had held the position of Club President (1979 to 1980 and 1989 to 1990), Zone Chairman and Deputy District Governor and had thoroughly enjoyed the duties he undertook as an enthusiastic Lions Club member.
He was also well known in Lisburn for his work with 'Meals on Wheels' and helped to provide home to hospital transport on Sunday afternoons which allowed family and friends to visit patients in Holywell.
Bill's home village was Wiggin Hall St Mary Magdalene which is seven miles from King Lynn. Initially, he had two brothers - Leonard and Harold. However, their father passed away when Bill was just 14 months old and his mother remarried.
She subsequently had two more children - Tony and Eileen. Bill is survived by only Eileen and Harold.
He won a county scholarship to The King Edward Grammar School and in 1943, aged 17 he joined the The Royal Navy.
Because of his height and build he was chosen for many guards of honour with duties including the Armistice Services at the Albert Hall and Whitehall Cenotaph as well as the opening of the fountains in Trafalgar Square by the Duke of Gloucester.
Bill's main arena of naval service was with the mine sweepers which made the work of the Atlantic convoy possible in the last years of the war. His role was to protect the gun turrets and ensure the power supply remained live to them at all times.
He was involved in D Day with the landing craft and played a part in the construction of the mulberry at Sword Beach in Normandy. He served beyond the end of the war and gave in total some 10 years to the naval service rising to the position of Petty Officer.
After the war he served in Palestine and also during the 1953 Suez crisis. His favourite ship, HMS Corunna (D97) joined the Fourth Destroyer Flotilla in 1947 as part of the Home Fleet and provided the happiest memories of his Royal Navy days.
After his naval career he worked for Hoover before moving on to the Rank Organisation in Brighton becoming a Regional Manager covering Scotland and Northern Ireland. He met Irene in 1964 and the couple married in Belfast in 1967.
The first three years of their marriage were spent in London where Bill worked with Relay Communications.
Stephen was born in London before the couple came back to the province in 1970 to live on the Ormeau Road. They then moved to Lisburn where their daughter Johanna was born and Bill became Managing Director of a leading Belfast company.
The Richer's home at Avonmore Park became the centre of their family life for more than three decades - a life which Bill, Irene and their two children were happy to share with Irene's niece.
In 1989, as he prepared for his second term as Lions Club President Bill spoke of his love for the city to the Ulster Star.
"I have never regretted moving to Lisburn. 1 thoroughly enjoy living here and I would not be anywhere else," he said.