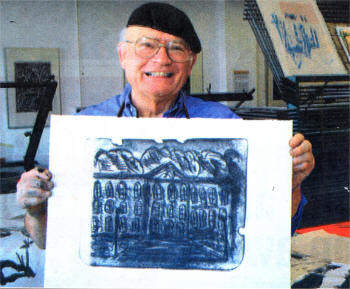 Graham at work, using the print form Lithography to create his stunning artwork
THE moving story of how a former customs and excise interrogator from Lisburn became a renowned artist will be told in a BBC1 Northern Ireland documentary on Monday night (June11).
'Graham Catney - made in Belfast' reveals how this remarkable man who never held a paintbrush until seven years ago went back to college and is now about to conquer the art scene. Sadly, his tremendous talent only became apparent following the tragic death of his wife.
Valerie Catney passed away 11 years ago leaving a void in his life which he believed he would never be able to fill.
However a suggestion by his brother to attempt art as an outlet has resulted in Graham being able to express his emotions.
His daughter Suzanne expressed her feelings about her father becoming an artist: "I think it has been great therapy for him, after mum died he needed something to give him that added interest and it has given him great joy."
The documentary sees Graham return to Southern Spain where he and his wife had hoped to spend their retirement.
Sadly Valerie passed away within a few years of them moving there and Graham's dreams were shattered.
The programme follows Graham as he makes the emotional journey to Nerja on the Costa del Sol - his first visit since Valerie died.
He talks about being inspired by Spanish artists such as Picasso and how he wishes to continue to develop as an artist just as Picasso did in his latter years.
Indeed, Graham is already following in the footsteps of artists like Picasso, Matisse, Toulouse Lautrec and David Hockney as he has chosen to work in print or lithography; a mesmerising art-form based on the fact that oil and water do not mix.
Using this method he has already gained the respect of established artists, such as Neil Shawcross, who have bought his work.
Following his time in college his graduation show sold out in a matter of hours with work going to The Lyric Theatre, The Belfast City and Mater Hospitals as well as to local personalities including Wendy Austin who is a big fan.
Graham also won Diageo's 'Most Emerging Artist 2005' award and has exhibited at the Ulster Museum. Graham said selling his paintings "gives him a buzz.
"It may sound arrogant or boastful and I don't mean it in that sense but there is the satisfaction when someone says: 'Graham I like your work, I'd like to buy it,' and you feel your heart beating faster."
Philip McGovern, Producer and Director said: "Graham is one of the most inspiring characters I've ever met. His enthusiasm and zest for life is infectious.
"You come away from having met him and somehow things look brighter, the world is a better place. His belief in the idea that you should have an interest and passion in life is something we can all learn from."
The documentary by Big Mountain Productions will begin at 10.35pm.