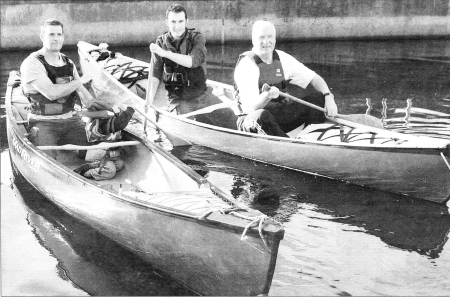 Matt Peach and Chris Walsh who will take part in a four day Canoe from Dromara to Belfast along the Lagan sponsored by Tommy Anderson of Lagan Valley Steels. US4107-513C0.
A TEAM of canoe enthusiasts are preparing for a four-day expedition which will see them navigate the River Lagan from its source at Slieve Croob all the way to the Lagan Weir in Belfast City Centre.
Matt Peach, Chris Walsh, Peter Edgar, Pete Dew, Mark Cleague and Tony McAreavey will undertake the challenging project at the beginning of November to raise funds for local charity Race Against Multiple Scelerosis (RAMS).
The first part of the 70-80 kilometre journey, 'from Slieve Croob down to the sea', will see the team take an early morning walk from the source of the Lagan to Dromara.
Here they will board their canoes and paddle to Dromore Leisure Centre. On the second day they will leave Dromore Leisure Centre and paddle to Magheralin Road Bridge, a journey which is expected to take around eight hours.
On day three it is expected to take a similar length of time to travel from Magheralin to Glenmore Activity Centre. Day four will see the team undertake the final stage of the trip from Glenmore to Lagan Weir.
Chris Walsh, whose father John is Principal of Fort Hill Primary School, spoke of his enjoyment of canoeing. "During the last three years I have been lured by the passion of open boating," he said. Chris also said the Lagan was one of Northern Ireland's most famous river systems. "I have had an interest in travelling along its length for some time. It is an amazing trip," he said.
"The source and the mouth are actually quite close as the crow flies. In fact the mouth can actually be seen from the source on Slieve Croob, yet the river meanders its course through some beautiful countryside on its 70 km journey to the sea."
All five men have an interest in supporting the work of RAMS which they describe as 'a very impressive charity' and hope the trip will provide the backdrop for a 'fantastic fundraising opportunity'.