by NEIL GREENLEES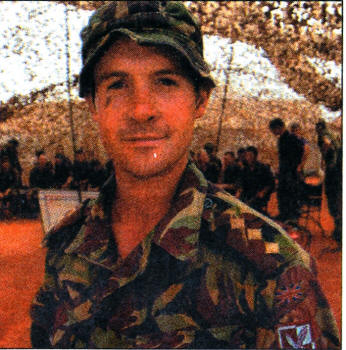 Army Captain - Captain Paul Martin, a former pupil of Wallace High School.
A FORMER pupil of Wallace High School who is now an army officer has paid a warm tribute to his Royal Irish Regiment comrades who saved his life when he was seriously injured in Afghanistan last year.
Captain Paul Martin (30), of the Regiment's First Battalion, still has bits of shrapnel embedded in his body following a Taleban mortar attack which occurred in Helmand Province.
Despite this traumatic experience he is currently taking part in 'Grand Prix', a major six week training camp being held in an arid Kenyan tundra valley.
'Grand Prix' is regarded as vital training for his battalion's next deployment to Afghanistan in March.
Captain Martin said his injuries had left him in no doubt as to the value of such exercises.
"If it had not been for the quick thinking and training of my colleagues I probably would not have been here today," he added.
"The conditions in Kenya are very challenging and this will hold the guys in good stead when we deploy to Afghanisation in March next year."
Captain Martin joined the army in 2004 and has served all over the world including Iraq, Afghanistan and Germany.
His battalion is around 600 strong and due to its size, 'Grand Prix' has been broken down into a number of 'stands' each manned by a company of around 130 soldiers.
Each stand concentrates on a certain aspect of warfare training and the four companies will experience all of these during the exercise's six week duration.
The Battalion's Commanding Officer Lieutenant Colonel Ed Freely is more than happy with the training.
"I've seen them progress through the section, platoon and now to the company stage attack. The progression is very evident," he added.
"I'm very happy the air assault companies are now on track to be in a position that I can combine them with all of the Battle Group assets."