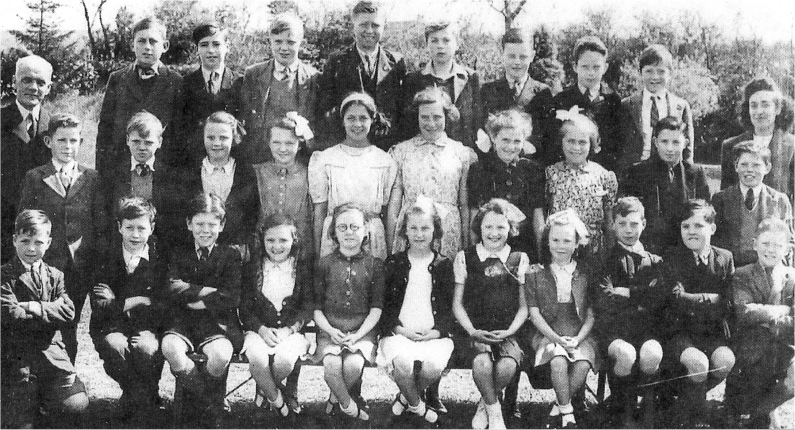 The Carr Primary School photo from 1947/1948. Back row, left to right: Stanley Kerr, Thomas Bryans, Ernie Robinson, Robert Hanna, Jack Scott, George Carlisle, Martin Lowe, Jim Hall. Second row: Sam Sloan, Junior Harron, Ruth Glenn, Viola Spence, Tilly McFarland, Iris Corbett, Audrey Smith, Joan Johnston, Bertie Abbott, George Dobbin. Front row: John McFarland, Herbie Jordan, Sam Dobbin, Helen Magowan, Jean Harvey, Eileen Sloan, Isme Jamison, Margaret Patterson, Henry Corbett, Walter Johnston and Derek Harrison. Also included are Master Scott and Miss Patterson (now Mrs Trevorrow).
THERE will be celebrations at Carr Primary School later this month as they will bring together pupils past and present to mark their 75th Anniversary.
Carr is one of the longest established schools in Northern Ireland and they are still on the lookout for former pupils in preparation for an Anniversary Service at Christmas.
The school are hoping to gather details of pupils, parents and staff who have played a part in the history of the school. They would also love to have old photographs and stories about the school.
Teacher, Mrs Frances Greer said, "We would love any past pupils to contact us with old school photographs, anecdotes or snippets of history."
Principal Mr William Hayes commented, "We will be having a celebration service and a Christmas Nativity on the day, as well as the Chairman of the Board of Governors, Rev. Ken Smyth, cutting a cake with the youngest pupil at the school."
Carr Primary not only has a long history, its future also looks bright and former pupils will be given a guided tour of the new facilities which opened in June 2006, including
new classrooms and anew assembly hall. The school is hoping for a large turnout and a sea of reminiscences.
If you wish to get in contact or simply to be kept informed of the forthcoming event contact the school at 336 Comber Road, Lisburn, BT27 6TB or telephone 92638615 between Monday and Thursday before 12.30pm.
The 75th Memorial Service Celebration will be held in the school on December 19 beginning at l0am.
Anyone interested in attending will be extremely welcome.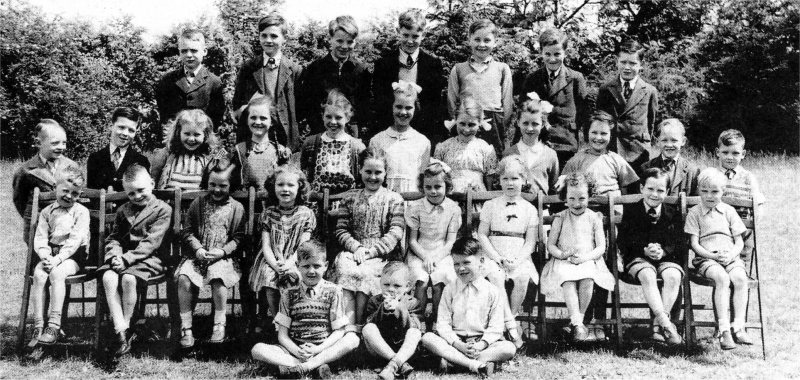 The Carr Primary School photo 1952. Back row: Fred Johnston, Graham Harron, Noel Reid, Maurice Harrison, Lenny Reid, John Smith, Brian Smyth. Middle row: Jim Johnston, Stanley Patterson, Marlene Robb, Elizabeth Cairns, Margaret Holt, Phillis Duffield, Wilma Patterson, Maureen Eadie, Roberta Philpot, Tom Magill, Wilmer Patterson. Front row: Tom Patterson, Eric Johnston, Edith Johnston, Robb, Rosemary Johnston, , Muriel Johnston, Alice Magill, Willie Johnston, . Sitting: Robert Patterson, George Johnston and Earl Philpot.