`She never uttered one word of bitterness or self pity'
Sarah Barr who lost her battle with cancer earlier this year.
MOIRA man Mike Barnett will be running harder than ever when he takes on the Belfast Marathon on May 7, as he will be taking part in memory of his beloved niece Sarah Barr who sadly lost her three year long battle against cancer on February 14 this year.
13-year-old Sarah was diagnosed with an aggressive form of brain cancer three years ago and underwent a delicate operation.
However not all of the tumour could be removed and the surgery was only 95% successful.
The operation had a number of side effects on Sarah, as her father Darren said in his eulogy: 'The disease and the subsequent treatment had changed our little girl in so many terrible ways. She had been temporarily paralysed; she got permanent double vision; she temporarily lost the power of speech and only regained it partially....she could no longer run, skip, cycle or swim; she could not really sing or play her beloved flute; the radiotherapy greatly reduced her IQ.....she eventually lost her sight and was virtually unable to say a single word. - In effect she had her childhood and dignity stolen from her. And she never uttered one word of bitterness or self pity in the three years.'
Mike and his son Jonathan, who live in Moira, have run the marathon over the past few years and will once again be taking up the challenge. "Losing Sarah was quite a shock, even though we knew it was going to happen, so we are hoping we can raise as much as possible," said Mike. "Previously we ran for CLIC Sargent and this year we will run for CLIC Sargent Northern Ireland and the Northern Ireland Cancer Fund for Children, the two charities that have helped Darren and Judy over the years."
He continued, "Sarah proved to be an extremely strong and courageous child, definitely putting us adults to shame, never complaining about anything. She touched the hearts of people who never even knew her and she has left a deep void in many hearts.
"This is the reason Jonathan and I have decided to run the Marathon. We aim to raise awareness, but more importantly funds, to enable these charities to carry on providing the essential support services to young cancer sufferers and their families.
"This will probably be the last year I run the marathon, as it's getting harder, but I wanted to do it this year as a memorial to Sarah. I will continue to raise funds for charity, especially cancer charities. There are so many children suffering this way, it's so sad." If you would like to sponsor Mike and Jonathan's appeal then please contact michael@barnettmichael.wanadoo.co.uk or telephone 9226 1732.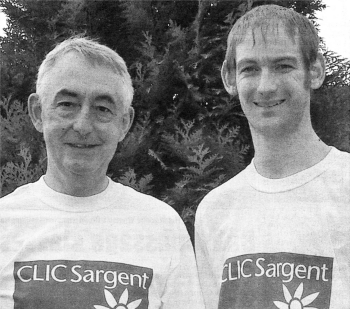 Mike and Jonathan who will be running the Belfast Marathon in memory of Sarah.