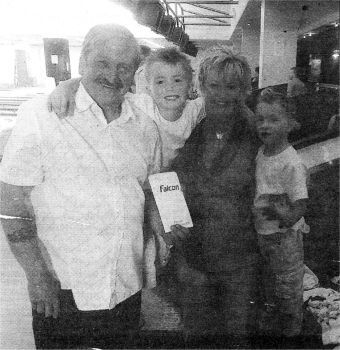 A SICK little Lisburn boy and his family will fly out to Spain next week to enjoy the sun courtesy of a charity set up to help cancer victims.
Five-year-old Brian Kerr, who has Fanconi's Anaemia, will head off on a holiday to Salut with his eight-year-old brother Adam and their mother Gaye, thanks to the 'Shine a Light' organisation.
The break in Spain is a source of joy for the Moira family who tragically lost Brian's twin sister Helen two years ago.
Gave explained how the holiday came about: "Billy McCrory, who runs Shine a 'Light', rang me one day and asked me how I was doing. The he asked if I fancied going on holiday. The hairs were standing on my arms.
"He'd been given my number from a lady whose daughter was in hospital with Helen." Billy's initial phone call was in April and since then the charity has become a lifeline for her and the boys.
She said: "Now we meet up with Billy every other week and go bowling. Brian found it difficult to bowl at first but with encouragement from Billy he is now bowling by himself and we all really look forward to meeting up." Gaye explained why she enjoys meeting people associated with the charity: "We are doing normal things with people who have been affected by the same things. I can cry, chat and have fun and it does not feel a sin to laugh - you don't feel guilty."
The family will leave for their holiday next week once they get the all clear from Brian's blood tests. They have been provided with five day passes for an adventure park and the boys are getting excited.
Talking about his work with sick children and their families Billy, 53, who single-handedly set up the charity and has pledged to devote the rest of his life to sufferers in Northern Ireland, said: "It is a pleasure to be able to bring some fun into the Kerr family's life. I thought it may be time they went through good times."