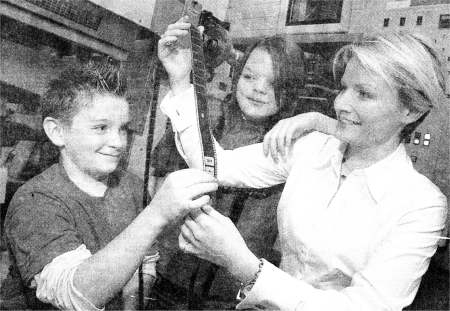 Cinemagic film consultants Caolan McMullan, Kerry Fitzsimmons and Coca-Cola Public Affairs & Communications Manager, Maire Campbell, look forward to the feast of international films on offer from 16th November-2nd December.
THE much-anticipated Cinemagic film festival for young people will be launching its 2007 programme on September 27 at Movie House Cinemas, Belfast, with a special preview of Disney Pixar's much anticipated `Ratatouille'.
Coca-Cola Bottlers (Ulster) Ltd is again Cinemagic film festival's title sponsor.
The Coca-Cola Cinemagic International Film and Television Festival runs from November 16-December 2 in various venues across Belfast and it caters for a wide age range of young people with just about every level of interest in film - whether they want to watch and enjoy, create their own work, or take things one stage further and find out more about a possible career in the film or television industry.
The award-winning festival is action packed with film screenings - special premieres, international feature films, documentaries, shorts, foreign language films, education packages from pre-school to college level, and accompanying industry workshops.
In addition to the film programme, Cinemagic, with the support of Coca-Cola, will offer a series of practical industry events such as Cinemagic Stars (3 day acting workshops for 10-18yr olds), the hugely successful Cinemagic Young Film Maker Competition in association with First Light Movies (3 day workshops & film showcase events), Spirit of the Festival Photography Competition, Young Film Critic of the Year and the Cinemagic Talent Lab (2 day masterclasses for 18-25yr olds) focusing on all areas of film making including directing, scriptwriting, acting, and production.