LISBURN STUDENT WINS AWARD FOR TOP STUDENT IN THEATRE
by CHRIS JONES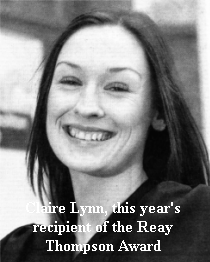 LOCAL theatre `obsessive' Claire Lynn has been recognised as the most outstanding student in Belfast Metropolitan College's Performing Arts (Theatre Studies) course.
Claire, who is 21 and from Lisburn, recently collected the college's Reay Thompson Award and is now studying for a degree in drama from Queen's University.
It was starring in Annie' and several other school plays at Laurelhill Community College that made Claire - who now plans to teach drama or become a theatre director - catch the acting bug.
"I got heavily involved in drama at school and took to it immediately," she says. "My drama teacher suggested I take it one stage further after I left and told me that there were a number of different courses available at Belfast Institute".
At the Institute, now known as BMC, Claire's studies exposed her to other aspects of the creative process - new acting techniques as well as all that
goes on behind the scenes to put together a successful production. In 2004, she headed across the Atlantic when, after beginning her HND in Performing Arts (Theatre Studies) in Belfast, Claire was awarded a placement in Schreiner University, Texas. The year in the US was mainly spent following an intensive course in Business Studies, but Claire was able to continue her drama studies by taking optional modules each semester.
"The opportunity to study abroad came along and I seized it with both hands," she says. "I had no experience of Business Studies before but always had an interest in it and wanted to learn more."
"The college was very supportive of my decision to take a year out and provided the references I needed to be successful at the interview stage."
During her time at Schreiner, Claire joined the university's soccer and debating teams, explored Texas and enjoyed discovering its culture. She also landed a leading role in the university's annual play and made the 'President's List' of top academic achievers for both semesters.
On her return home, Claire completed her HND, gaining a distinction four years in a row. In May this year, she also took up the post of assistant director for 'The Relapse', this year's college production.
Claire says: "I have found the support, teaching and attention I have received at Belfast Metropolitan
College invaluable and would highly recommend it to anyone wanting to study drama."