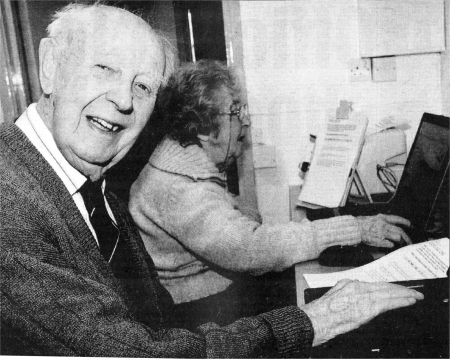 100-year-old Donald Sloan at the computer course in the Holy Trinity Nursery, Longstone Street. US4107-501C0
THEY say that you are never too old to learn, and that is certainly the case for 100-year-old Donald Sloan jnr who has joined up for a computer class for beginners.
Mr Sloan, a resident of Pond Park Nursing Home is taking part in a ten week class at Holy Trinity Nursery School in Lisburn.
He, along with five other residents from the home, have gone back to the classroom to find out about e-mails and learn how to surf the web.
Their first day was spent looking at the internet with many browsing web sites to find the most expensive house for sale in Lisburn.
Courses at the nursery have been running for eight years aimed mainly at parents.
But one enthusiastic grandmother Ellen Drayne, who has had 20 grandchildren attending the nursery school, asked if she too could join. News quickly spread and soon she was joined by four others from the home who also wanted to take part.
Principal Maureen Irvine spoke of the success of the courses run at the school.
"We were very keen for them to come on board," said Mrs Irvine. "Many of them want to find out about computers so they can keep in touch with friends and family abroad.
"Courses here have been very successful and obviously those taking part are telling others. The residents have been very enthusiastic and keen, one is a former doctor. It helps them get out and bring them back into the community."
The course runs each Thursday from 9am to 11am with residents treated to a well deserved cup of tea.
Everyone completing the course will each receive a certificate.
For more information contact Mrs Irvine at 02892-672080.