by STACEY HEANEY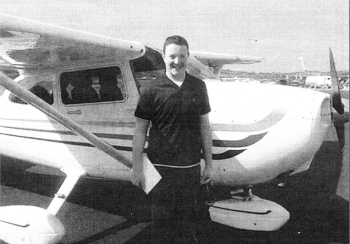 Conor Irvine, who flew into the record books on his 16th birthday as Ulster's youngest solo pilot.
GOOD Friday turned out to be a great Friday for local boy Conor Irvine, as he flew into the record books as the youngest person in Ulster to pilot a plane solo.
The Ballinderry teenager, who has flown with the Ulster Flying Club for two years, took his first solo flight on his 16th birthday to see him fly into the record hooks.
Conor had already passed his Air Law exam before his birthday on Friday April 6 and he was all set to take to the skies, as long as the weather was kind to him.
And a beautiful, clear day saw a delighted Conor pilot the plane alone as he flew solo over Strangford and Newtownards.
Conor said, "It was weird the first time but I've done it so many times it just comes naturally. I did a few circuits around the Newtownards Peninsula, which was about 10 miles and I've been up three or four times now."
Conor says he would 'love to be a commercial pilot' and says he developed his love of flying after being given a gift voucher.
' When I was 14 I was given a gift voucher and after that I got a few lessons and developed a love of flying," he said. "You have to be 16 to go solo so it's pretty good to go into the record books, it's a nice achievement."
Conor's instructor Steve Zani was also delighted with his achievement, he said, "He's young but he's not exactly small and he's very sharp for 16. He was probably ready to go solo a year ago but it is age restricting, by law you can't go up any younger but he was definately ready. His father was more nervous than he was, much more nervous.
"It was booked six months in advance but it is subject to the weather, not many people get to go up on their birthday but luckily it was a beautiful day so it all worked out perfectly."