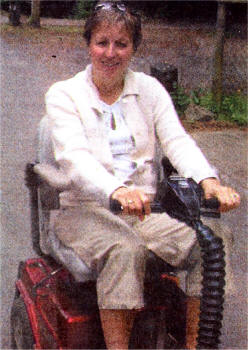 Dona Calow.
THE LIFE of a well known Lisburn woman who passed away this year after a long illness is to be celebrated in a musical evening next week.
Four top female vocalists 'The Leading Ladies' will present 'A song for Dona' in memory of Dona Calow, who was an international badminton player and a member of Lisburn Racquets Club.
Dona died last march at the age of just 46 following a long battle with breast cancer and multiple sclerosis.
Her husband Stephen said: "I am absolutely delighted and I can't thank those people involved in organising the evening enough for all their time and effort."
Proceeds from the event will go to Action MS and Stephen said a musical evening was a great way to support the charity. "It is for a good cause and something which is close to my heart" he said.
"I would also like to thank everyone in advance for supporting the evening."
Action MS Chief Executive Ann Walker said the evening will be a fitting tribute to Dona who inspired everyone with her wonderful personality.
"Dona was diagnosed with multiple sclerosis as a relatively young woman. Blessed with a sunny personality, she made friends wherever she went.
"Dona's mother Daphne Sloan and mother-in-law Helen Calow are longstanding supporters and good friends of Action MS. It is typical of the family that even at this difficult time they are thinking of the many other young people in Northern Ireland with multiple sclerosis. A Song for Dona promises to be a really uplifting event."
The concert organised by family friend Geoffrey Cherry will take place at Lagan Valley Island Hall on Thursday September 20. Tickets are available form the Island Box office 92 50 9354.