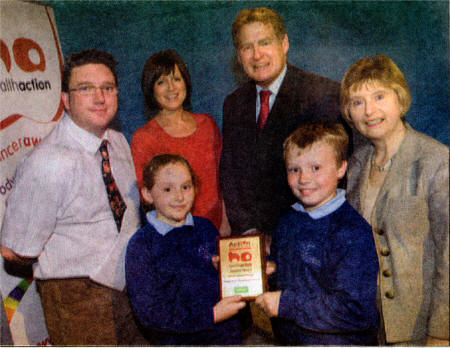 Pictured at the recent Health Action Awards are back row left to right, Maurice Jay from U105, Centra Brand Manager Nicky Kelly and Action Cancer Chief Executive Robin McRoberts. In the front row receiving their award are Downshire PS pupils Amy McMorris, George Strong and teacher Margaret McClean.
DOWNSHIRE Primary School has picked up an award in the South Eastern Education and Library Board region for its outstanding health promotion activities for pupils.
The health-conscious school was one of 16 which impressed Action Cancer with their proactive approach to health education for pupils.
The awards are part of Action Cancer's ongoing Health Action initiative, which offers a range of health promotion road-shows for primary and secondary schools and is sponsored by Centra.
Action Cancer's Health Promotion Manager Emily Magrath said the charity was delighted to see a continuing high standard of health promotion in South Eastern Board schools and colleges:
"The Health Action Awards are designed to acknowledge the best initiatives and Downshire Primary School has demonstrated an outstanding commitment to the health of pupils."
For information on the Health Action Awards, or to get your school involved in the Health Action programme contact Action Cancer on 9080 3344.