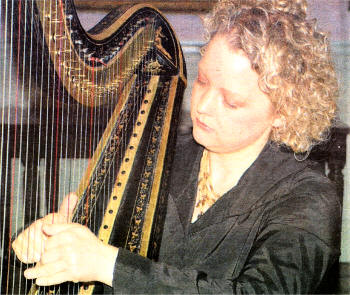 Cliona Doris playing the Egan Harp which was restored by Lisburn Museum. US0907-450CP
ONE of Ireland's leading musicians showcased Lisburn Museum's restored late 18th century 'Egan Harp' last Friday evening.
Cliona Doris, who has appeared throughout Ireland, Britain, Europe and the USA, performed a programme which included a range of Irish melodies and classical numbers perfectly suited to the period instrument.
Her entertaining introduction to each item gave the capacity audience at the city's Assembly Rooms a valuable insight into harp music.
Friday evening's concert, which was organised by the City's Arts Advisory Committee (LAAC), was billed as A Celebration of Music and Poetry'.
| | |
| --- | --- |
| | |
| Pictured left-to-right are author Colin Sloan, Monica Walsh and Alderman Cecil Calvert (Chairman of Lisburn City Leisure Services). US0907-453CP | Harpist Cliona Doris, Winifred Bell (Committee member of LAAC) and Richard Yarr (Vice-Chair LAAC) US0907-451CP |
Cliona was joined for the evening by two of the Committee's grant recipients - pianist John Wilson and poet Colin Sloan.
John performed a selection of piano classics and Colin read six poems from his new book, 'From Lambeg To The Drum, A Lyrical Journey'.
A range of work by LAAC sponsored creative artists was also exhibited in the foyer of the Museum by Patsy Browne (Harmony Hill Craft Group), Sam Perkins (Lisnagarvey Arts Society) and Graham Catney and Ethna Brogan (freelance artists).
The Mayor, Councillor Trevor Lunn and Mayoress Mrs Laureen Lunn attended the event.
| | |
| --- | --- |
| | |
| Pictured left-to-right are Sam Perkins (Committee member LAAC), Louise Smith (Community Arts Officer), Stanley Bell (Committee member Creative Arts Committee), Janet Artherton (LAAC Performance Arts) and Graham Catney (Secretary of the Creative Arts Committee). US0907-454CP | Pianist John Wilson with LAAC Chairman Stephen McLoughlin. John played a selection of Debussy and Chopin Preludes during the evening. US0907-452C |
Mr. Lunn congratulated the LAAC Committee, and in particular Winifred Bell and Richard Yarr, for arranging the evening. Committee Chairman Stephen McLoughlin thanked the artists for their hard work.
The LAAC Annual General Meeting will take place on Wednesday April 25 at 6.30pm in the Island Arts Centre. Interested practising professional artists living in the City or individuals with a proven representation in the arts are invited to attend.