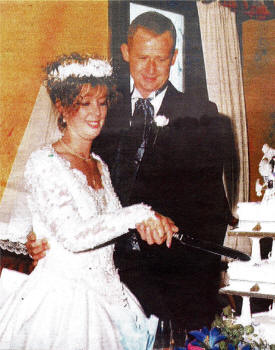 Eileen and Paul on their wedding day.
A BEREFT Twinbrook man was due to return home this week with the body of his wife after she was tragically killed in a traffic accident while they were holidaying in Texas.
Eileen McGurk (39) died when the vehicle in which she was travelling with her husband Paul, a taxi driver, was involved in a collision close to Austin last Thursday.
Mrs. McGurk's sister Jeanette McLaron said the couple "just lived for one another".
"They loved travelling and had a holiday four times a year," she continued.
"We have spoken to Paul and he is just numb. I don't think it has sunk in yet. The first thing he remembers is being in the helicopter."
Ms. McLaron said her sister had been the youngest of six children who was 'always smiling and always laughing'.
Loss
"She just lived day by day," she added. Mrs. McGurk's brother Henry Savage said the entire family was 'at a loss' until they received her remains home.
He explained his sister and her husband had been married for 11 years.
"Eileen worked in the milk kitchen in the Royal Victoria Hospital preparing babies' bottles. She had worked there since she left school," he added.
Mr. McGurk's mother Bridie said her son, who had pins inserted in his arm following the accident, had been left 'devastated' by the death of his wife.
She explained he had made a very emotional phone call to his family and continued: "Eileen was the best daughter in law you could ask for. They lived for each other.
"I have spoken to him on the phone and he broke down.
"He rang last night to say they were trying to get home. He won't come home without Eileen."
Mr. and Mrs. McGurk were travelling in a sports utility vehicle along with Mr. Patrick McAteer from Rosnareen in the Glen Road area and his girlfriend Sharon Sanders from Texas when the collision occurred around two miles west of Bastrop.
Austin newspapers report a Cedar Creek resident, Susan Moore, who was driving east on Texas 21 struck the party's vehicle which was being driven west by Mr. McAteer who is understood to have been seriously injured.
Ms. Sanders was reported to have suffered a broken wrist.
Press reports also stated everyone involved in the collision was wearing a seat belt.