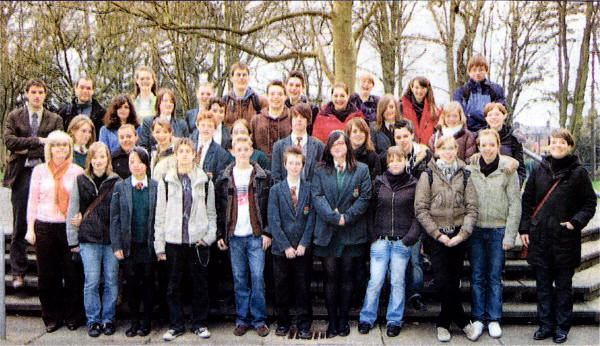 Friends' School pupils with their German visitors.
FRIENDS' School, Lisburn took part in their first ever German exchange last week when twenty pupils and two teachers from the Remstal Gymnasium Weinstadt in Stuttgart visited the school.
The Friends' linguists had been looking forward to the arrival of their German partners and during the week they spent in Northern Ireland, they organised a fun week of activities and excursions.
During the week the pupils were taken on an outing to the Giant's Causeway and Portrush. "We were very lucky and had great weather. The scenery was beautiful and our German guests were very excited, especially on the bus journey there - the German pupils were very keen on singing as loud as they could," said Hansol Lee.
During the weekend, an action packed itinerary swung into place and the pupils of both schools enjoyed shopping, visiting restaurants, watching a rugby match and a small group travelled to Dublin.
On Monday, the last day of the exchange, the party went to the Ulster Folk Museum, where everyone participated in activities such as baking soda bread, quilling and making candles.
This exchange was a fantastic opportunity for anyone studying German, and many good friendships were established. The Friends' students are-greatly looking forward to the return visit to Germany in October.