Georgia, who suffers from Chronic Myeloid Leukaemia, had the transplant two months ago has been away from brother Liam, her home and her beloved pet dog Max.
She got back to Northern Ireland on Sunday but had to spend a further two days at the Royal Hospital for Sick Children before she was allowed home for good.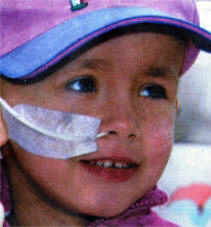 Georgia's transplant took place on April 5 and she remained in isolation for a month. She; left hospital on May 4 but had a slight setback when she caught an infection and was forced to return to hospital again on May 19.
But on Sunday doctors finally gave the news that everyone had been waiting for - Georgia could go home.
Mum Debbie said she could not put into words her reaction.
"We were just over the moon," she said. "I just thought 'great' and Georgia was really excited. I can't really believe it. I'm still in shock." Throughout the gruelling ten weeks it was Georgia's spirit that helped everyone through many ups and downs.
"She was always a joy and bouncing all the time," she said. "She really kept our spirits up even during the darkest time."
Now that the family are home Debbie admits that she is still a bit apprehensive.
"It seems a bit surreal because we have been in a cocoon for so long and now we are out in the real world something we are not used to We have been told there is still a long journey ahead of us and a lot more tests but Georgia has battled through a lot.."
Georgia's bone marrow will have to be tested twice a week at the Royal and for the next six months. Her diet will be checked and will not be allowed in crowded areas, and will still need to be fed through a nose tube for a while. She will also have to have her immunisation injections again.
She said: "She is in good form and has put on more weight now. She is a little quiet. Though we feel like celebrating but we will just have to wait for another six months before she can have a party. She is not allowed to be in crowds. She has fought a big battle she still has a little ahead of her yet.
"Everything is fine but it could have been all so different."
Debbie would like to thank all the prayers, texts, and messages of support that she has received throughout their time spent at Bristol.
`The one person I want to thank, and can't'
GEORGIA'S mum Debbie said that although she has been able to thank doctors and medical staff who cared for Georgia so wonderfully, there is still one person she would dearly love to thank personally but is not allowed to - the unnamed American man who selflessly donated his bone marrow in an act which ultimately saved Georgia's life.
He was located and matched by the Anthony Nolan Trust.
"He is the one person that I would really like to thank but cannot," she said. "He ultimately saved Georgia and gave her the chance of life."
Through the Anthony Nolan Trust Debbie can send him a card, but she is not allowed to use names. It will be two years before she can do that.
"There are so many families we have met who are still waiting for donors," she said. "If it was not for the Anthony Nolan Trust it could have been fatal for Georgia.
"Without the transplant it would have been a ticking time bomb for her.
"We'll never be able to thank them."
The Northern Ireland Leukaemia Research Fund, Lisburn Branch