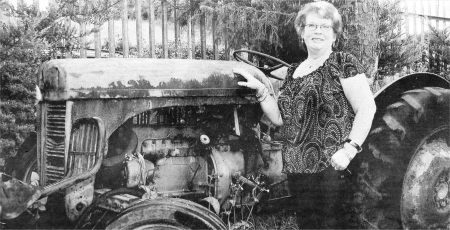 Helen McFadden hopes to link the Hillsborough Road entrance to Dromore with one of its famous 'sons' and one of the greatest inventors and innovators of the 20th century - Harry Ferguson. George Milligan has donated this 'Little Grey Fergie' to be decorated and re-sited for the benefit of visitors to historic Dromore. BL31602dmcw
A WELL-KNOWN Dromore woman is hoping to place an ornamental tractor at the Hillsborough Road entrance to the town in honour of world-famous inventor Harry Ferguson.
Helen McFadden has sourced a small Massey Ferguson tractor, named after Harry Ferguson from Growell outside Dromore, which she wants to see on the roadside at the entrance to the town.
But the final decision rests with Roads Service who own the land.
She said: "People have said to me about how dreadful looking the place is at the Welcome to Dromore sign. I'm trying to get something done. The tractor could make a nice feature if it was up on blocks and flowers planted around it."
But John Beatty, Section Engineer with Roads Service in Banbridge, who spoke with Mrs McFadden a number of weeks ago, said the plan was not as simple as it may first appear. He said Roads Service needs clear details about the proposed location of the tractor and explained safety was paramount.
Mr Beatty said the decision depended on a number of issues, including protection of the taxpayer and safety of road users. "There is a traffic management issue and planning permission may need to be granted for example," he said.
Mr Beatty said it is preferable that the local council undertakes to look after displays like the one proposed by Mrs McFadden. He said: "An individual would have to take out a maintenance agreement for seven years saying they accept responsibility for maintaining it. It is very difficult for an individual to undertake this.
"Roads Service have to protect the taxpayer in that something is not put there and then allowed to go completely wild as it would have to be removed at the taxpayers' expense.
"I'm not saying permission wouldn't be given but that it would only be given subject to certain safeguards for the road user."