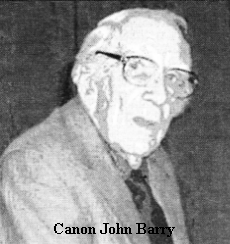 A BELL, which was manufactured 235 years ago, will be dedicated to the memory of former Rector of Hillsborough and Campanologist Canon John Barry at a special service in the village's Parish Church next Sunday (December 16).

A memorial plaque will be dedicated at the same time during a ceremony conducted by the Archbishop of Armagh Rt. Rev. Alan Harper.

The bell, which weighs half a ton, was produced 22 years before the death on the guillotine of King Louis XVI and Marie Antoinette.

It was one of nine shipped from England to Ireland in 1772 by the First Marquis of Downshire who was having new churches built in both Hillsborough and Hilltown, 22 miles away.

Eight of the bells were delivered to Hillsborough but the ninth went to Hilltown where it fell into disrepair and disuse.

A spokesperson for the bellringers said they decided its preservation would be "a fitting memorial to Canon Barry who was a keen supporter of church bellringing.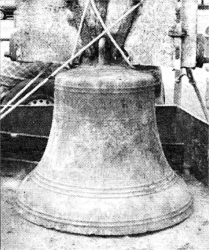 "The bell was taken from Hilltown and shipped back to England for refurbishment courtesy of All-Route Shipping (NI) Ltd," he continued.
Once installed, the bell will be reunited with the others for the first time since the 18th century and in the lifetime of the Ninth Marquis of Downshire. It will be a fixed bell; being rung on those occasions when it isn't suitable to ring the 'full circle' bells," he added.
The spokesperson also said technical work and fundraising were "well underway.
"We believe there are many people outside Hillsborough Parish who would appreciate the opportunity to make a donation towards the memorial fund and such donations would be very much appreciated and regarded as tributes paid," he continued.
Donations should be sent to 'Hillsborough Parish Church', Hon.Treasurer of Bellringers, c/o The Sexton's House, Main Street, Hillsborough.
Fuller information on the project can be viewed at www.hillsboroughbells.co.uk and enquiries may be directed to the bell tower at ringingmaster@hillsboroughbells.co.uk