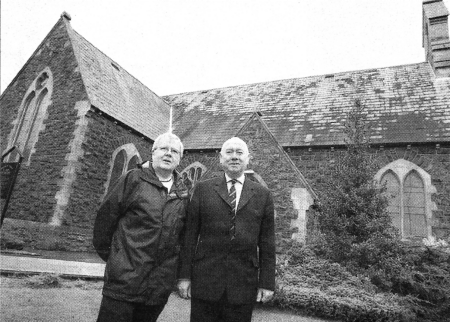 Michael Humphries and Jim Neill outside St.John the Baptist Church Of Ireland which is coming up to 150 years old. US4407-523C0
THE historic church of St. John the Baptist (Parish of Upper Falls) will celebrate its 150th Anniversary on May 27 2011.
The church, which sits at the junction of Stewartstown Road and Suffolk Road, intends to mark this major milestone with the publication of a book commemorating a century and a half of Church of Ireland worship within its walls.
The book will be compiled by local historian Michael Humphries and Diocesan Reader Jim Neill and they are keen to hear from current and former parishioners with memories of special events at the church.
Stories about life in the various organisations linked to the parish will also be very welcome as will old photographs and other memorabilia.
Marking the parish's 130th anniversary in May 1991 - Jim Neill, Honorary Treasurer, Mrs Mary Gillian, Archbishop Robin Eames and Canon John Nolan.
The history of the church stretches back to the 1830's when Church of Ireland members living in the area worshipped at St. George's in Belfast's High Street.
This church held the title 'Perpetual Curacy of Upper Falls'.
However, there was recognition of the need to create a parish at Suffolk and in 1836 the Rector of St. George's, Rev. R. W. Bland, gave his curate Rev. Joseph Rawlins special responsibility for the spiritual welfare of the people of Upper Falls.
St. George's lost its 'Perpetual Curacy' title with the creation of the new parish which grew steadily.
As the 20th century progressed many new homes, including the Suffolk Estate, were built in the area. Presbyterian and Methodist churches were also constructed.
However, the Troubles saw a dramatic drop in numbers and St. John's Parish Hall was destroyed in 1977.
Mortar bombs caused major damage in the early 1980's when they were fired at Woodburn Army Base and the church was closed for a time to allow repairs to be carried out.
Anyone wishing to contribute material to the book currently being planned should contact Jim on 9267 4895 or Michael on 9080 7703. Michael's e-mail is michael.humphries4@ntworld.com.