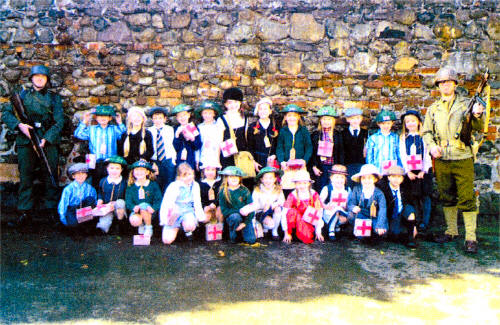 Mr Mark Freeman, Mr Paul Malone and the class of P4 from Brownlee Primary School during their special World War II day.
A GROUP of primary school children had a very special history lesson when they they went `back in time' and got an insight into what life was like during the Second World War.
Last week the primary four children from Brownlee Primary School held a World War II day. All the children dressed up as evacuees and the windows of the classroom were blacked out as they would have been during war time.
The School Principal Mr Colin Elliott explained: "This special day was the highlight of a series of lessons which the class teacher Miss Laura Woods had been teaching on the topic of World War II and all the children came away with an experience which they will remember for many years to come. "
Mr Elliott brought in war artefacts and uniforms that belonged to his grandfather, who served in the RAE.
He described what it was like for his mother and her family when his grandfather was serving in England and North Africa during the War.
Mr Paul Malone brought in authentic uniforms for the children to see and he dressed as an American Ranger GI.
Mr Freeman, the school caretaker, dressed in an authentic German uniform and the children were able to see first hand the uniforms and accessories which soldiers from both armies would have carried.
The school's German Language Assistant, Mrs Lydia Ceranka, spoke to the children about what life was like in Germany after World War II and how Germany was divided up by the Allies.
She also told the P4 children about growing up in East Germany during the time of its control by the Soviet Union.