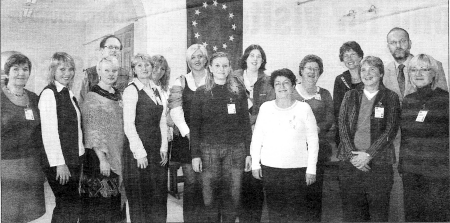 Staff from Hunterhouse College with teachers from schools in Latvia, Germany and Cyprus during the recent Comenius project visit to Latvia.
TEACHERS from Hunterhouse College have recently returned from a visit to Latvia where they have been seeing how schools there encourage children to lead a healthy lifestyle.
The local teachers have been taking part in a three year 'Comenius' project, which sees staff from Hunterhouse exchanging information with teachers from schools in Latvia, Germany and Cyprus.
Last year the teachers examined the problem of bullying and violence in school, this year the focus was on healthy lifestyles and next year the schools will be dealing with citizenship.
Valerie Crawford from Hunterhouse College is leading the local team and said the project has been of great benefit to the schools involved.
"The Comenius project, which is funded by the EU and British Council, encourages teachers to develop resources, exchange ideas and improve education throughout Europe, explained Mrs Crawford.
"The project has been very helpful," she continued. "I have a different team of teachers going with me each time with particular expertise and they have benefited immensely. There is also a knock on effect to the pupils."
Following the recent visit to Latvia, the team of teachers from Hunterhouse have devised a questionnaire which will be distributed to GCSE level students, asking about their habits and areas in which they need help or advice.
"Our project has been very successful. It requires a lot of hard work but it is well worth it," concluded Mrs Crawford.