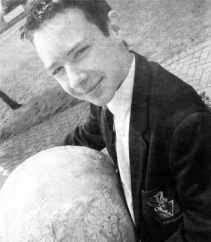 FIFTEEN year old Jamie Pow from Lambeg will be saying goodbye to Lisburn during his summer holidays and heading off to California.
The Wallace High School Year 11 student has been selected to represent the United Kingdom at the National Geographic World Championship.
Jamie explained: "I was part of the Wallace team which won the United Kingdom World Wise Quiz Challenge last year at Malham Field Centre. I am delighted to be representing the UK in this summer's five day competition in San Diego and I've already been in contact with the two other UK team members. I'm really looking forward to meeting the other competitors from seventeen other nations and having the opportunity to learn about their lives."
The World Wise Quiz is organised by the Geographical Association. Jamie is studying geography at GCSE level, and whilst he has yet to decide on a career path he definitely hopes to study Geography at A Level.
"The Geography Department here in Wallace has been really supportive," continued Jamie. "Mrs Singleton has organised the WWQ teams for many years and Wallace has enjoyed many regional victories, thanks to her enthusiasm and encouragement. I'd also like to thank Miss McKee, the Head of Department, for all her support - I hope I can do the school proud in San Diego."
Jamie is also looking forward to exploring California. "I've never travelled outside the UK before so I can't wait to fly to New York and then on to San Diego. My parents are coming with me and we plan to visit Los Angeles and San Francisco the week after the competition."
Head of Geography at Wallace, Barbara McKee, concluded: "I've no doubt that Jamie will be an excellent ambassador for his school and city. I would like to wish him well as he sets off for California and am looking forward to hearing about his travels in September."