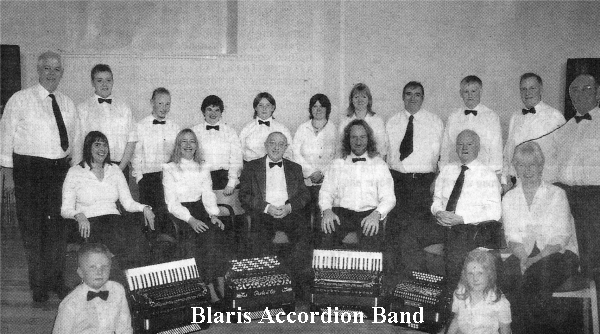 Blaris Accordion Band with Jim Thompson in the back row [second right]
BLARIS Accordion Band recently honoured its longest serving member.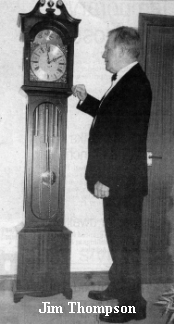 Jim Thompson was presented with a grandfather clock featuring a brass plaque referring to his '50 years loyal unbroken service'.
He first entered the band's ranks in 1956 and is the only remaining serving member from that year. More than five decades later he said bands are now playing "much more modern music".
"This makes it more interesting for younger members who can develop their musical abilities and help the band carry out its yearly programme," he added.Mr. Thompson also outlined some of the band's history.
It was originally formed in 1935 by Blaris Christ Church Temperance LOL 128 but became independent from the lodge in 1955.
"I can remember some great times with band members down the years," Jim said. "I can remember playing under some great conductors such as the late Mr. John Allen and the late Mr. William McMurray with whom we won Grade One Championships in the Ulster Hall and All Ireland Championships in Limerick in 1990 and 1991.
"The present conductor Mr. George Caldwell, who came to the band in 2001, continues to keep entering contests a priority.
Mr. Thompson said the band also played at events such as youth parades, Orange Sunday services and the July 12 demonstration.
"Christmas is a busy time when we play carols and give concerts in nursing homes and folds," he continued.
He also revealed details of the band's annual variety concert and sing-a-long in Magheragall Parish Church next Friday, May 4. This will include pipers from Magheragall Pipe Band playing 'Amazing Grace' and other pieces in harmony with the accordions and drums of Blaris.
Finally, Mr. Thompson said new members were needed: "Learner players are always welcome from 10 or 11 years upwards," he added.
The practice hall is the Sarah Crothers Centre at Warren Park in Lisburn. Anyone interested in joining should phone 9262 1453.