by JENNY MONROE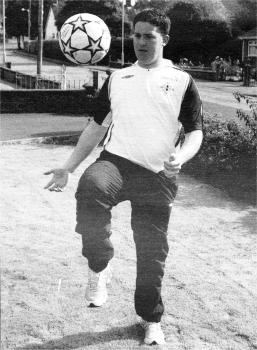 Johnny McKinstry who is leaving to coach with the New York Red Bulls US3407-515C0
A LISBURN man will take up his dream job in America next month when he follows in the footsteps of David Beckham to join a Major League Soccer team.
But Johnny McKinstry, 22, won't be playing against the likes of Backham's LA Galaxy team, instead he has been appointed senior coach at the Youth Academy of the New York Red Bull Soccer team based in New Jersey.
An excited Johnny, who recently graduated from the University of Northumbria with a degree in sports science and coaching, said "I sent off my CV to the Major League Soccer organisation and they got back in touch saying there was a position with the New York Red Bulls and it all snowballed from there."
Working for a top team is nothing new to Johnny, who spent time as student helping to coach young players at Newcastle United and he spent last year coaching in Africa.
He said: "I love coaching and have had an interest in it since I was a teenager. I was moderate player but Paul Kirk the Manager of Distillery really got me started in my coaching career when I met him through work experience."
The former Wallace pupil said his family thought they would get to spend more time with him once he had graduated but they an delighted that he has been given such a fantastic opportunity.
"I can't wait to get my visa sorted out an( head to America. The Red Bulls really loot after their staff and it will be a fantastic way to start my career."