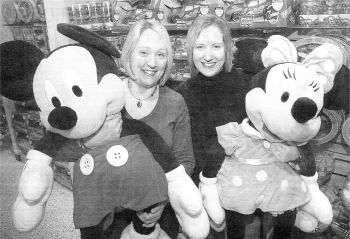 Citybeat 96.7FM presenter Lisa McCormick with prize winner Karen Hughes.
WHILE the rest of Northern Ireland has been shivering in the winter cold, the radio station CityBeat have made a local woman's dreams come true by sending her to Florida to swim with dolphins.
Karen Hughes from Dunmurry was the lucky winner of CityBeat's latest Prize Pilot competition and jetted off to the sunshine state on Saturday.
"I'm very excited," she said before leaving. "I'm really looking forward to it, I must admit. I'm taking my sister Amanda with me and neither of us have been before."
In Florida Karen will get to fulfil a life long dream to swim with her favourite animal.
She said: "I was just told before I went that we are going to be swimming with dolphins.
"It is always been something I've wanted to do so I can't believe it. It's a dream come true."
And she has her husband to thank for winning the competition.
"One day I was in work and my husband rang me and he said the CityBeat Prize Pilot is supposed to be where Planet Fun was, which is near where I work," she said.
Shouting
"So I just ran outside and started shouting to everybody Are you the Prize Pilot?' and people were looking at me as if I wasn't wise.
"Then I ran across the road to the King's Head and I saw the CityBeat car sitting.
"I got the boarding pass that day and about a month later Lisa McCormick from CityBeat rang me to say I was down to the last two people.
"She played a song and when it had finished she said the winner was on line two and that was me. I just went mad."
CityBeat Drive Time presenter, Lisa McCormick, is broadcasting live from a hotel on International Drive all this week.
Itinerary
"It's 9am in Florida when I go on air, so it's going to be really odd saying good afternoon the whole time," Lisa said.
"We've got quite a jam-packed itinerary. We're going to Universal Studios and doing all the theme park rides, well maybe not me - I'm a bit nervous about the rollercoasters.
"We're going to Disney World and Sea World as well.
"Every step along the way we'll be getting interviews and recordings to try and make the listeners at home feel like they are there with us.
"And we're going to be checking in with Karen and her sister every day to see how they are getting on and making sure they are enjoying them- selves.