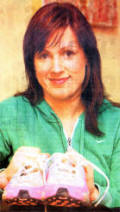 A DREAM to run the London marathon will come true for Dundrod woman Kerry Lindsay, widow of motorcycling hero Darran Lindsay.
Last week the Star reported that Kerry, 30, hopes to raise funds by running the Belfast marathon in May in memory of Darran, who died last September during practice for the Killalane Road race in Dublin. However, on Monday she learned she will also have a chance to run in London in April.
The young mother of three had applied for London but was unsuccessful in the ballot and couldn't believe her luck when she was told her dream was to become a reality.
Kerry said: "I entered a competition in Runner's World Magazine a few weeks ago. They had five places for the London Marathon, and asked people to write in 100 words why they should be chosen to run.
"It is something I always said to Darran that I wanted to do and now I will.
"When I was writing my entry I had a funny feeling that I was in with a good chance." Kerry s entry read: "I'm a 30-year-old mother of three children under four years of age. I ran my first marathon in Belfast, 2006. My husband was so proud of me. Since then I often spoke to him about how I'd love to run in London '07, he said definitely go for it. "On September 9 he lost his life whilst competing in a motorbike race. My world fell apart. I would love to run in memory of Darran and raise money for injured riders." Elizabeth Hufton of Runner's World Magazine said: "Everyone who entered had a great reason for running but what struck us about Kerry's entry was her complete lack of self-pity, despite the devastating loss of her husband. Her entry showed determination, focus and a positive outlook."
Kerry said when she put the phone down after the good news she cried.
She knows running both marathons in two weeks will be gruelling. "I am going to attempt both but I may end up having to walk quite a lot of the Belfast one," she joked. If you are interested in joining Kerry in the Belfast Marathon in any of the different stages or would like to make a donation which will go to the Injured Riders Fund and the MCUI Medical Team, contact her on 07928484457.
Kerry - now getting ready for the London and Belfast marathons.