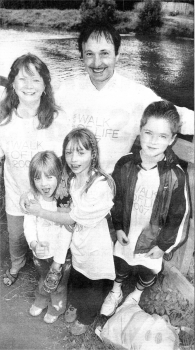 The Giraudeau Family from Lisburn at the Walk of Life 2007.
OVER 70 walkers and their families took to the Lagan Towpath on Saturday August 25 to raise vital funds and awareness of mental health at the the Rethink Walk of Life.
Recent research by MIND has proven that by walking and exercising in a 'green' environment depression is alleviated by over 70%, as ,opposed to urban walking where depression is only alleviated by over 20%.
For these reasons, Rethink has created the inaugural Rethink 'Walk of Life' along the Towpath. Bill Halliday the Director of Rethink Northern Ireland, said: "It was great to See both serious, 'hobby walkers' and their families taking part in the 'Walk of Life, not only because of the physical and mental health benefits to hem but also because of the financial support their sponsorship will give Rethink and the magnificent work it does here in Northern Ireland."