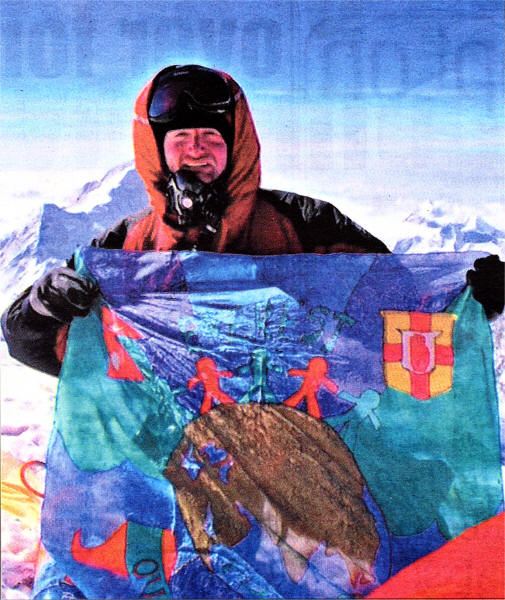 Roger McMorrow with the Friends flag on the summit of Everest.

IT HAS emerged the Lisburn doctor who last week successfully reached the summit of Everest had been involved in a life or death drama before he reached to top of the world's highest peak.

Dr. Roger McMorrow, an anaesthetist at Dublin's Mater Hospital, and his colleagues taking part in the Caudwell Xtreme Everest project came across a 22 year old Nepalese woman slumped on a section of the mountain known as the 'death zone'.

Usha Bista was suffering from oxygen deprivation - a key subject being studied by the medics during their visit to the Himalayas - and required immediate treatment.

Thanks to Dr. McMorrow and his colleagues she recovered, suffering only from minor frostbite.

Dr. McMorrow's wife Sara explained the party had decided before leaving Ireland they would not pass anyone who needed help.

They stuck rigidly to this pledge and immediately administered first aid to Usha on the mountain side before moving her back to base camp level.

"They made an incredible effort to get her down and they did it very successfully," added Sara.

"She must have been one of the luckiest people alive to have gone into a coma on Everest just as a party of anaesthetists was passing by."

The emergency occurred at 8,000 metres and delayed Dr. McMorrow's climb to the summit by one day. Team leader Dr. Mike Grocott said Usha had an inadequate amount of oxygen to the top of Everest and back again. "She then developed a condition called high altitude cerebral edema due to low oxygen levels" he said.
"This wasn't what we intended to get involved in but it was a situation where we were compelled to help when it arose."

Dr. McMorrow went on to reach the summit of the mountain as he and his colleagues explored how humans adapt to low oxygen levels in a bid to benefit patients in intensive care units.

He was proud to unfurl the flag of Friends School where he was educated when he reached the top. Earlier this week he was back at Base Camp where further medical experiments were carried out.