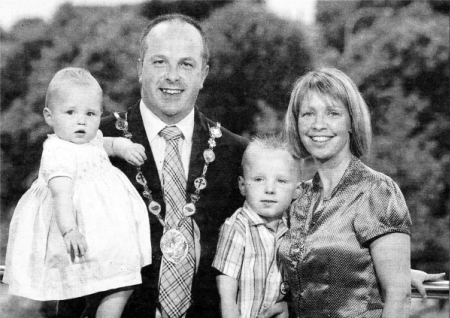 Lisburn Mayor Councillor James Tinsley, with his wife Margaret and children Anna and James.
DUP Councillor James Tinsley has became Lisburn's youngest ever Mayor.
Having served on Lisburn City Council for eight years, representing the Killultagh area, Mr Tinsley is delighted to take on the role of first citizen of the city.
Despite only being in office for a few days, Mr Tinsley has had a busy start to his year as Mayor and has had just a taste of what his term in office will be like.
Engagements during his first weekend representing the people of Lisburn included attending the Lord Mayor's Dinner in Belfast, enjoying a family fun day at Thiepval Barracks, visiting Knockagh War Memorial and attending a UDR Memorial Service.
Anticipating his year in office, Mr Tinsley said: "I am really looking forward to the challenge.
"I have a young family and I am hoping to include them in as many of my engagements as possible.
"I want to continue to move the city forward," he continued. "I will be promoting Lisburn whenever I can."
The new Mayoress, Mrs Margaret Tinsley, said she was also looking forward to the year ahead, when she would support her husband as much as possible.
"Everyone is determined to give as much help and support to James as possible to make sure every commitment is fulfilled," she added. "It is going to be very enjoyable as we love talking to people and meeting new people that we may not have otherwise met." Mr Tinsley will be supported throughout his year in office by newly elected Deputy Mayor, Ulster Unionist
Councillor Ronnie Crawford. Mr Crawford said he was delighted to be Deputy Mayor, and added: "I will give the Mayor my full support during his term."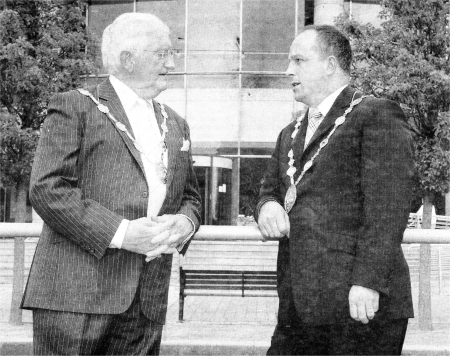 Make A Wish chosen as Mayor's charity
LISBURN'S new Mayor, Councillor James Tinsley has chosen the Make A Wish Foundation as his charity for the year.
Throughout his term the Mayor will host events to raise money and help to raise the profile of the charity, which works throughout Northern Ireland to grant wishes to children fighting life threatening illneses.
Explaining his reasons for choosing the charity, Mr Tinsley said: "There are so many worthy charities but I wanted a charity that works within Lisburn with young people."
Darren Fowler, Make A Wish Foundation's Northern Ireland Manager, thanked Mr Tinsley for choosing the group, which is celebrating its 21st anniversary.
Encouraging local people to get involved, Darren said: "We don't have a team in Lisburn so we are trying to build up a team of volunteers who will help to grant wishes and raise money for the charity"
If you would like to get involved with the Make A Wish Foundation in Lisburn, contact Darren Fowler on 9050 5580 or
email n.ireland@makea-wish.org.uk.