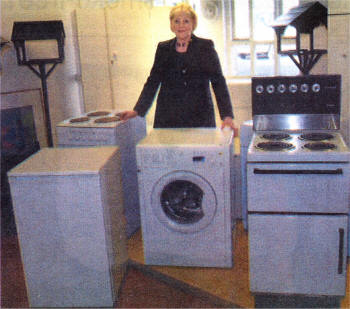 General Manager of Voluntary Service Lisburn Pamela Neill with some of the restored items for sale in the workshop and show room on Bachelors Walk. US1207-541C0
AN environmental success story is unfolding in Lisburn.
Voluntary Service Lisburn (VSL) is blazing a trail, rescuing and refurbishing old furniture and white goods for re-sale to the general public.
Saving these goods from landfill is helping the environment and also helps create jobs and volunteering opportunities.
Pamela Neill, VSL General Manager, said: "This initiative is having an incredibly positive effect across the city and beyond. "We collect and re-furbish furniture and white goods like cookers and washing machines to the highest possible standard for resale to the public and our business has really taken off.
"We've been able to help first time buyers furnish their homes and we've provided services for the growing immigrant community in the city. Customers on income support also receive an extra discount."
The organisation is not-for-profit and any money made is ploughed back into the operation.
Pamela continued: "VSL provides excellent volunteering opportunities and builds new job
skills with workers referred from the New Deal programme."
She added: "We were fortunate to recently receive further funding from Environment & Heritage Service to take this project a step further creating employment for local people. This has been a real bonus for VSL."
Business in the Community's environmental arm, the ARENA Network, has helped VSL get established, with one collection van currently on the road and another on the way.
To donate to Voluntary Service Lisburn, or to purchase re-furbished goods from the initiative visit the showroom at 52a Bachelors walk or call 92 602479. More information on VSL, operating since 1981, can be found at their website on www.vslisburn.org.uk/.
For more information on Business in the Community, visit the website www.bitcni.org.uk.