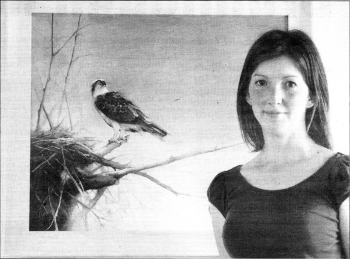 Local artist Lorna Hamilton
LOCAL artist Lorna Hamilton has had her 'American dream' come true after her painting was chosen to be part of a prestigious wildlife exhibition which will be held in Denver, Colorado, in October.
Lorna, who specialises in wildlife and portrait art, was accepted as an associate member of the Society of Animal Artists, New York, earlier this year. Following her acceptance, Lorna's first submitted painting, entitled 'Waiting', was chosen to be exhibited at the 47th Annual Exhibition of The Society of Animal Artists.
Lorna commented, "It was great to be accepted, I've been painting for almost 13 years professionally so it is a reward for all the hard times when things aren't going so well. It's not just a great achievement, but it is recognition of all the hard work and effort over the years. Doors are just opening to success, I'm on the right path now.
Lorna will now travel to Colorado in October where she will attend the opening night of the exhibition, where her work will remain until February.
"It is amazing to be actually going to see my work exhibited," she stated. "The artists my work will be hanging beside are artists I have regularly looked at and looked to for inspiration.
"This will give me an opportunity to establish links with galleries out there, I hope to have my work represented in America full' time. I also would like to have my work recognised in Ireland and mainland Britain, in America there is a different approach, there are galleries solely committed to wildlife art, it's highly sought after so I hope that I can also have my work recognised here."
Lorna, who has been working from her studio in her home in Saintfield since graduating from the University of Ulster in 1995, could also find her work travelling throughout the US in a year-long exhibition. "A number of work's are selected to travel across America," said Lorna, "It would be absolutely amazing to be accepted.
"I've become interested in wildlife art in the last five years, its been a gradual process but I've found my niche now, this is something that I can get excited about."