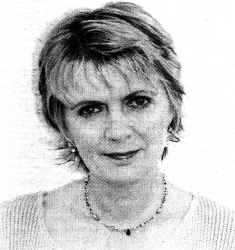 A THRILLER novel for the internet age will be launched this weekend by a local teacher
Although already well known for her short stories, this is the first book by Lynda lavakoli, from Anahilt who received funding to have her work published from Lisburn Arts Advisory Council.
Lynda, 52, explained there are two themes to her novel 'Attachment' - the risk of using 'Friendship' internet sites to re-establish contact with former colleagues and the dangers of e-mail correspondence that use 'secreted' viruses to access information from unsuspecting recipients.
Lynda explained now she began by writing human interest stories for local newspapers.
'Then, when the new Island Arts Centre opened, I signed up for the creative writing :lass and began to experiment with short stories. I was fortunate to win the Eason/Downtown short story competition a couple of times and this gave me the confidence to try writing a full length book" she said.
"'Attachment' emerged a few months later although it too started life as a short story that J felt lent itself to being extended." Lynda has written the book in email format - no easy task for someone who considers herself to be computer illiterate', but feels the final product has been worth all the hard work and research.
The book will be officially launched this Saturday, September 22, at the Island Arts Centre but already Lynda is close to completing her second novel
She said: "It is totally different from the first and is taking me much longer to write. 1 I have stalled with it a couple of times but I nope to have the first draft finished by this Christmas."
Publisned by AuthorHouse, the novel is currently available through Eason's and a variety of retail websites.