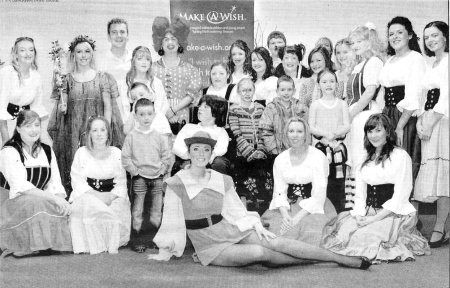 Make a Wish children meet the cast of Goldilocks and the Three Bears at the annual Make a Wish Christmas panto show at the Lisburn Civic Centre, Alan Lewis - Photopress PR
CHILDREN from across Northern Ireland had a very special treat on Sunday when they attended Make A-Wish Foundation's annual Christmas pantomime and fun day held at the Island Hall Civic Centre in Lisburn.
The leading wish granting charity for children with life-threatening illnesses hosted a magical day of festive fun for over 50 wish children and their friends and family from across Northern Ireland," and even enlisted TV presenter John Daly to kick off the proceedings.
Some 350 people came together for the event to enjoy an afternoon of treats which included face painting, performances from youth dance group Move It Pro-Excel, and juggling, unicycling from circus performing supremos Babcock and Bobbins.
Santa himself also made an appearance to welcome visitors in his Christmas Grotto.
Lunch
After a special lunch, guests settled down for an enchanting performance of the 'Goldilocks and the three bears' pantomime by the Lisnagarvey Operatic Society.
Darren Fowler, Regional Manager at Make-A-Wish Northern Ireland, said: "This year's pantomime was absolutely fantastic. Everyone had a great time and there was a really magical atmosphere.
"It's such a privilege to be able to bring wish children together from across Northern Ireland. I'm already looking forward to next year!"
Make-A-Wish is currently celebrating its 21st anniversary year.
With the help of more than 600 volunteers, and corporate, celebrity and individual sponsors around the country, Make-A-Wish has granted over 4,500 wishes since 1986 and aims to grant its 5,000th wish by the end its 21st year.
Last year Make-A-Wish Northern Ireland granted 35 some wishes and hopes to reach 50 by the end of 2007. It has recently launched a fresh recruitment drive in the province, and is opening its books once again for anyone interested in becoming a volunteer and helping to grant more magical wishes.
For more information about MakeA-Wish or volunteering with the charity please contact Darren Fowler on 02890 805580 or email Darren.Fowler@makeawish.org.uk. To make a donation go to www.make-a-wish.org.uk.