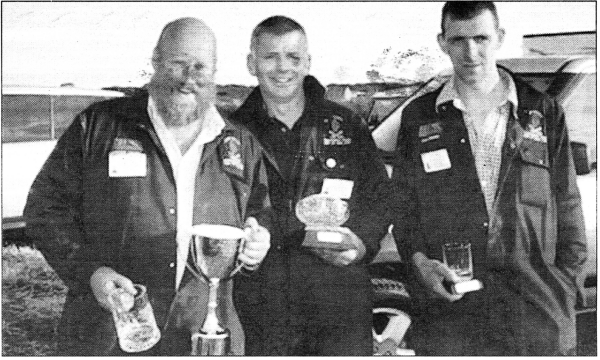 Smiles of success from the Northern Ireland vintage tractor ploughing team at the European Championships held on the Isle of Man. From left, Mercer Ward. Hillsborough, Jackie Moore, Bangor and youngest competitor in the field. 25 year old Ian Simms from Carrickfergus. US3607 - ploughing pic -
A HILLSBOROUGH man came first in his class at the European Vintage Tractor Ploughing Championships on the Isle of Man last weekend.
Mercer Ward took first position in the European Vintage Tractor Class and had the satisfaction of seeing Northern Ireland's two other representatives at the event also do well.
Jackie Moore from Bangor came second in the trail class and second in the overall European Vintage Tractor Ploughing Championships.
Ian Simms from Carrickfergus, the youngest competitor in the event was fourth in the hydraulic class and eighth overall.
WON
Meanwhile, the cup won by Mercer was provided by Hillsborough man Ronnie Coulter who was very happy to make the presentation to his near neighbour.
Mercer's team coach Tom McCracken from Dundonald praised the efforts of his team and their loyal band of travelling supporters. The Northern Ireland Vintage Tractor Ploughing Championships will be held on Sat, Sept 29 at Hillsborough on ideal Lagan Valley land owned by Raymond McKee between the village and Moira.
As ever, a strong entry is expected with a new vintage reversible class sure to attract interest following Mercer Ward's crowning as European champion on the IOM.
Entry forms are available now, by post or e mail, from Miriam Ward, NI Vintage Tractor Ploughing Association tel; (028) 9268 2128.