Final Beating Retreat at Lagan Valley Island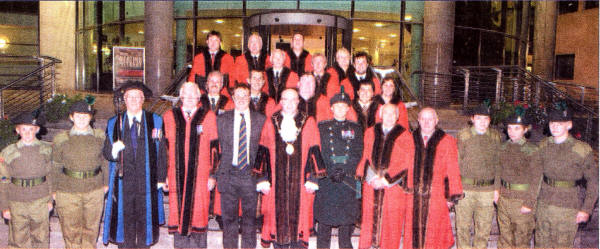 Representatives of Lisburn City Council and The Royal Irish Regiment at the Final Beating Retreat Ceremony in Lisburn
THERE was a large turnout at Lagan Valley Island on Saturday for the final ever Beating Retreat Ceremony by the Royal Irish Regiment's band.
The musical pageant, performed by the Band, Bugles, Pipes and Drums was one of the last engagements of the award-winning RIR Band, before its disbandment this November.
Spectators were treated to an evening of music and pageantry, mixing both traditional and contemporary music.
"While I am greatly saddened that the Band of the Royal Irish Regiment will disband this November, the Royal Irish Band (Territorial Army) will exist hereafter so I am hoping that the fine Irish tunes will continue throughout Northern Ireland if only on a more part time basis" said the Mayor, Councillor James Tinsley.
"This is indeed a time of great change but with great opportunities. May we wish the Regiment our very best and hope that they will remember they will always have a special place in our hearts in Lisburn."
Alderman Seamus Close. Mr Freddie Hall, Mrs Yvonne Hall and Cllr Allan Ewart
Mr Joe Stewart, PSNI; District Commander, Chief SuperIntendant, Henry Ervine; Mr Ken Henning, Mrs Carol Henning, Mrs Deidre McCausland and Assistant Chief Constable, Duncan McCausland.

The Band, Bugles, Pipes and Drums of the Royal Irish Regiment entertained the crowds at Lagan Valle Island in Lisburn on the occasion of the Beating Retreat.
| | |
| --- | --- |
| | The Mayor, Councillor James Tinsley and Mayoress, Mrs Margaret Tinsley welcome Major General Chris Brown, General Officer Commanding Northern Ireland to Lagan Valley Island for the final Beating Retreat. Pictures by Kelvin Boyes / Press Eye. |
| | Deputy Mayor, Cllr Ronnie Crawford; Mr John Jamieson and Cllr Andrew Ewing |
| | Cllr Mark Dunn, Mayor of Larne; Cllr David Archer and Mr John Hussey |
| | Alderman Edwin Poots with Mr John Jamieson at the Beating Retreat Ceremony. |
| | Cllir Bill Gardiner-Watson with Col. Andrew Hart. |
| | Pipe Major Jimmy Knox and Corporals Samantha Cocker and Samuel Baird take part in the lowering of the Flag at the Beating Retreat Ceremony. |