Mayor hoping to make some special wishes come true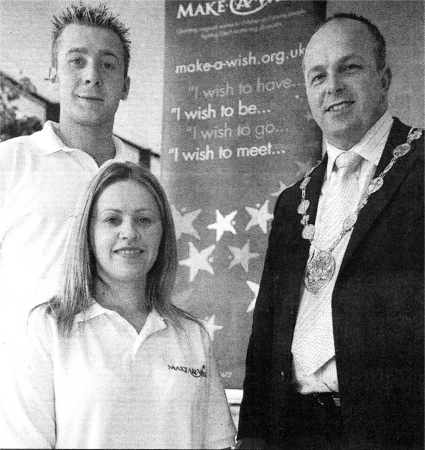 The Mayor of Lisburn, Councillor James Tinsley at the launch of his Official Charity - 'The Make a Wish Foundation.' Also pictured is Darren Fowler, Northern Ireland Regional Manager of 'Make a Wish Foundation' and Jolene Moran, Northern Ireland Regional Co-ordinator.
THE `Make A Wish Foundation' has been chosen as this year's Official Mayor's Charity in Lisburn.
The Foundation grants magical wishes to children and young people aged between 3 and 17 who are fighting life-threatening illnesses. Since its establishment in 1986 it has granted over 4,400 wishes in the UK.
It is also affiliated to 'Make A Wish International', the largest of all wish-granting organisations, found in 30 countries worldwide.
Speaking at the launch of this year's Charity, the Mayor Councillor James Tinsley explained why he had chosen the Foundation.
'As a father of two small children I cannot imagine the devastation of a child dealing with a life threatening illness. The desperation must be nearly impossible to cope with at times" he said.
"I wanted to support a charity that allows Families to leave these illnesses behind, even for a short while, and experience something extra special by granting a once in a lifetime dream come true.
"The Make a Wish Foundation is very much about living life to the full, and providing life long, treasured memories for all families involved."
Mr Tinsley will be working with the Foundation to raise the profile of the charity as well as arranging a series of fund raising events and opportunities throughout his term of office.
Regional Manager for the Make a Wish Foundation, Darren Fowler, said he was delighted to be working with the Mayor and Lisburn City Council.
"We were over the moon when we got the call from the Mayor's Office telling us we had been chosen as his charity for the year" he said.
"I am looking forward to working in the Lisburn area to recruit volunteers, run spectacular events and of course grant more magical wishes than ever before.
"If anyone in the Lisburn area would like to get involved with the charity we are recruiting a special team to join in all the fun activities and wish granting that we will be working on through out the year ahead. To become involved call me on 90805580 or e-mail me on darrenlowler@makeawish.org.uk"
www.makeawish.org.uk.