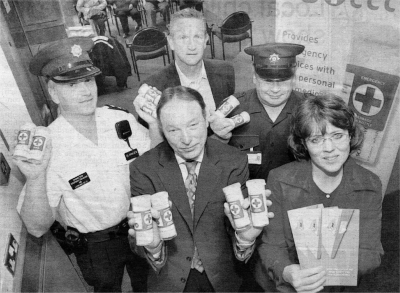 From left, Inspector Stephen Graham, Stephen McCracken, Station Commander Sandy Thompson, Camilla Reynolds and, centre, Tommy Mallon, assistant care manager, Lisburn Health Centre.
A SCHEME to help the emergency services get vital details of illnesses or allergies when they are called to someone's home has been launched in Lisburn.
Representatives from the emergency services such as PSNI, NI Fire and Rescue Service, the Care Management team from South Eastern Trust, Lisburn Home Accident Prevention Group and the Community Safety Partnership in Lisburn met together in Lisburn Health Centre to launch the `Message in a Bottle' scheme for the city.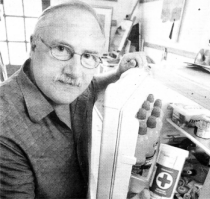 The scheme provides the emergency services with information on illnesses or allergies suffered by the person as well as details about their next of kin.
This is stored inside the clear plastic container and kept inside the fridge. Two stickers known to the emergency services and other caring agencies are' put up inside the home to indicate the information is available and where it is located.
The scheme is being rolled out across the province with many thousands of bottles being distributed to local community safety partnerships from the Northern Ireland Office.
The Lisburn Community Safety Partnership has linked up with the South Eastern Trust's Elderly Care Management team who will be responsible for distributing them.
Trust care staff will be sitting down with those people most in need of the scheme and helping them to complete the forms. A number of key partners have also been identified with a view to distributing them but members of the public will also be able to pick them up at their local health centre reception or Lisburn police or fire stations.
For more information about the scheme you can contact Stephen McCracken at 92 629060.