by JULIE ANN SPENCE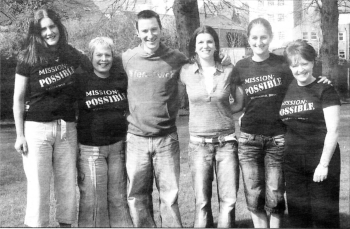 Front Row (L-R) Patricia Evans, Nicola Williams, Ruth Tolerton, Joanna Hawe and Anne Menary. Back Row (L-R) Lisa Dunmore, Gordon Armstrong, Esther Owens, Aaron Owens and Jenni Doman.
FIVE members of staff from Ballymacash Primary School will shortly provide some welcome help for one of their colleagues currently spending two years working with orphans in Romania.
Fiona Coles, who travelled to the Eastern European country with her husband Paul, works as a Camp Director with Livada Orphan Care.
Her five colleagues who will each be joined by a friend as they journey to Targu Mures to take 65 teenage orphans to a summer camp in Vectca.
| | |
| --- | --- |
| | |
| Ballymacash Primary School staff with Paul and Fiona Coles. (L-R) Esther Owens, Patricia Evans Paul Coles, Fiona Coles, Lisa Dunsmore and Joanna Hawe | Patricia Evans at the baby orphanage in Romania earlier this year. |
Fundraising
The Ballymacash team has been fundraising since March and even more events are planned to help them raise money for their' Mission Possible'.
To date their fundraising efforts have included a sponsored hair cut, car wash, wall climb, pamper nights, coffee mornings, car boot sales, table quiz and the 0auctioning of a lamp and painting.
Next Thursday (May 31) at 8pm the team will be holding an evening of Folk, Country and Easy Listening Music with the Bow Street Runners at Lisburn Rugby Club who have kindly donated the premises.
The Choir and Praise Group of Magheragall Parish Church have organised a barbecue with entertainment for Friday June 15 at 7.00pm.
The Ballymacash team would like to thank everyone who have helped make their Romanian mission possible.