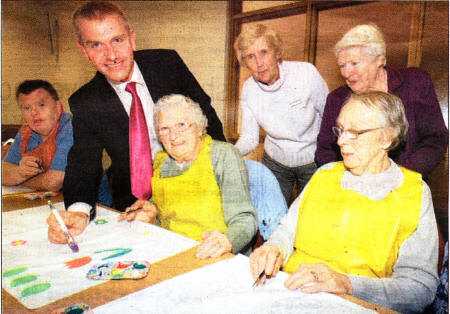 Northern Bank's Colin Patterson at the art class with Moira Friendship group, Rosemary Patterson and May Gracey. The Class is funded by the Northern Bank's Community Grant Projects. US4107-539C0
MOIRA Friendship Group has launched an arts and crafts programme designed for the over 50s, with the help from a grants programme for grass roots community activities.
Moira Friendship Group is running weekly sessions of painting, card making, ceramics painting, jewellery making until April next year. They received a Community Grant from Northern Bank so that members could benefit from the guidance of a tutor.
Mr Colin Patterson, Senior Branch Manager, Northern Bank Portadown attended one of the arts and crafts sessions and was impressed by what he saw.
He said: "This is a great example of what our Community Grants programme is all about. Moira Friendship Group works hard to encourage interest and involvement of their members and make a wide range of activities accessible to the older members of our community."
Moira Friendship Group also offers a The Active Lifestyles Programme, which encourages people 50+ to get active and stay active.
The Active Lifestyles programme includes a weekly schedule of activities such as Walking group, Pilates, New aged curling, Boccia, Bowling, Table tennis, Tai-chi, Swimming Lessons, Badminton, Line Dancing, Aqua-fit, Weigh to Health programme, Scottish Dancing and much much more. A monthly Tea Dance is held on the first Monday of each month 2- 4pm in St John's Parish Centre Moira.
If you would like any more information or would like to be added to the mailing list to receive information on further programmes you can do so by contacting, Alison Bell, Active Lifestyles Co-ordinator, Moira Friendship Group on 9261 2119 or email moirafriendshipgroup@hotmail.co.u