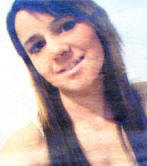 AS they prepare to face their first Christmas without her, relatives of tragic Dromore girl Naomi Wilson are pressing on with efforts to raise awareness of teen suicide.
Christmas Day will mark exactly 11 weeks since Naomi, a popular girl and accomplished Dromore High School student, was found dead on the morning of her 15th birthday, having overdosed on painkillers.
For her aunt, Shiralee Bailie (49) and her family, whose Christmas presents and birthday gifts for Naomi lie undisturbed at their Maze home, the intervening months have done nothing to lessen the impact of Naomi's loss and they have poured their grief into working to spare other families the same pain.
Stop
Drawing on earlier experience of raising money for the Royal Victoria Hospital neo-natal unit, the family held a fundraising craft fair on Saturday at Lower Maze Hall, with the proceeds going to the youth suicide helpline 'Realteen.
Speaking ahead of the event, Mrs Bailie said: "Coming up to Christmas it is quite a hard time for us, but my family wanted to raise as much money as possible to help promote awareness of this issue. We wanted to do all we could to try and help stop this happening to someone else."
Naomi regularly stayed over with her
aunt, uncle Peter (49) and cousins Rosie (26) and Neill (24) and Shiralee had come to think of her brother David's daughter almost as her own child.
The passage of time has served only to bring home to Mrs Bailie - who still expects to see Naomi walking around the corner and picks out clothes for her whilst shopping - the fact that her niece has gone.
And of course no amount of time will answer the one question that will always haunt Naomi's baffled friends and family - why did a popular, outgoing girl with many interests, a good student who had been looking forward to her birthday celebrations and until the last had been making plans for her future, choose to take her own life?
Reason
Naomi had never given her family any reason to suspect she might be anxious or depressed about anything; nor was there anything unusual about her behaviour on the night before her birthday.
When she was told of Naomi's death, Mrs Bailie thought her niece had been involved in an accident, never imagining she might have taken her own life.
For family members, life has been on hold since Naomi's death and the approach of Christmas, which Naomi loved, has brought a sense of dread, though the Bailies still mean to mark the occasion.
Mrs Bailie believes that had Naomi realised the impact of her suicide on her family, she would not have taken her life and the grieving aunt urged people to be aware that it is not only quiet and withdrawn youngsters who are at risk.