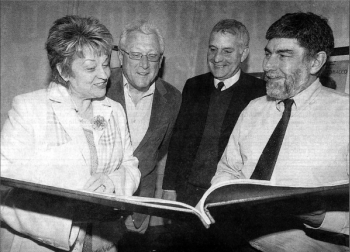 (Left to right) Valerie Curran, NIE; Harry Briggs, author; Brian Mackey, Lisburn Museum Curator; Trevor Hall, Assistant Keeper of Collection. US1407-111A0
NEW light was shone on Lisburn's history this week when an 80-year-old ledger was presented to Lisburn Museum by NIE.
The book provides details of the first people in the then market town to have electricity installed in their homes during the late 1920's.
One of the first residences to 'go live' was the house occupied by Dr. Johnstone in Castle Street, who was first able to read by electric light on December 4, 1928.
The Convent in the same street went live around the same time, as did Stevenson's Garage in Seymour Street.
The ledger was discovered at Northern Ireland Electricity's Lisburn office and Customer Relations Manager Valerie Curran said it was good to see it had been so well preserved.
She visited the museum with electricity expert Harry Briggs, author of '100 Years of Electricity' to meet with Assistant Keeper of Collections Trevor Hall and Alderman Cecil Calvert, the Chairman of the City Council's Leisure Services Committee which oversees the management of the museum.
Mr. Hall welcomed the donation. "This register is an important document for a future exhibition on the subject, and invaluable for general social history research," he said.