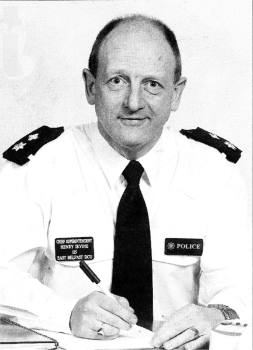 Henry Irvine - new police chief at Lisburn.
LISBURN'S new police chief has taken up his post. Chief Superintendent Henry Irvine is Commander of the new D district, created this week, which includes Lisburn, Carrickfergus, Antrim and Newtownabbey. He is one of eight new DCU commanders to take up their post.
Mr Irvine joined the Police Service 34 years ago and has served in a range of operational posts across Northern Ireland and at Headquarters. He was promoted to the rank of Chief Superintendent in 2001 and has been a District Commander in Belfast.
The old 29-DCU structure, which mirrored the existing Council areas moved to eight from the beginning of April just as speculation grows that the new assembly will look again at a different structure.
Speaking about the change ACC for Operational Support Roy Toner pledged that any efficiency savings will be directed back into front line policing
"The Police Service has driven forward momentous change over the past number of years. Once more we are embracing change to ensure that we are able to provide the best possible policing service to all the people of Northern Ireland" he said.
"The new structure will provide a flexibility and economies of scale which will allow us to improve services generally.
"One of the successes of policing here has been 'the local touch.' That is where local communities engage with local police to find local solutions to local problems.
"As we move forward the challenge facing all of us is to work together in partnership to make Northern Ireland safer for all and I believe that the new structures will help enable us to deliver that goal."