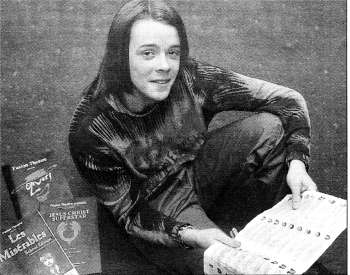 looking through some of the Fusion Theatre programs of the play's he's appeared in. US1707-363DW
LISBURN teenager Nick Parks has come tantalisingly close to achieving his dream of starring in a West End musical after he made it through to the final stages of BBC One's `Any Dream Will Do'.
However, much to his great disappointment and despite stunning performances at `Joseph School', he didn't manage to make it through to the televised rounds of the search to find the next star of Andrew Lloyd Webber's musical 'Joseph and the Amazing Technicolor Dreamcoat'.
Even though he didn't make it to the television studios, Nick takes comfort in the words of one of the judges, theatrical producer Bill Kenwright, who said of his performance: "You gave it to me from the heart and this is from the heart, you could be my Joseph."
Speaking about his time at 'Joseph School' Nick said: "It has made me crave musical theatre so much more.
Experience
"I enjoyed the whole experience so I have no regrets. I have learned a lot and if I can audition in front of the people I had to sing for, then I can do it for anybody."
Nick is no stranger to the stage, having performed for many years with Lisburn theatre company, Fusion.
However, with no formal training, the judges felt he lacked the self belief to make it through to the live final.
Despite this, Nick quickly bounced back, is currently auditioning for stage school in London and Manchester and is looking forward to the next Fusion Theatre production of Jesus Christ Superstar later in the year.