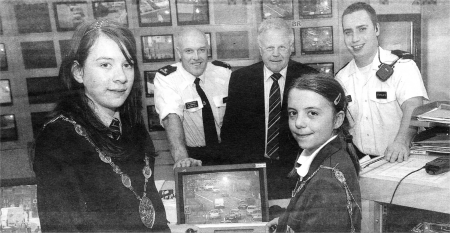 Orla and Rebecca get an exclusive insight into the workings of the local police and zoomed in on the city centre with CCTV operators.
A DREAM became reality for two local girls last week when they enjoyed the opportunity to be First Citizen for a day.
Orla Bradley from Good Shepherd Primary and Rebecca Mills from Friends were the winners of Lisburn Council's short story competition in which they had to explain to outgoing Mayor Trevor Lunn what they would do if they had the opportunity to take up his role for 24 hours.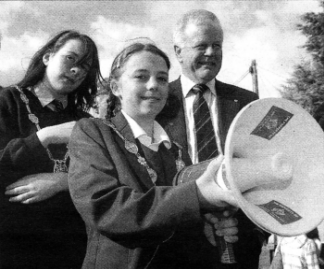 In her story Rebecca said she would 'create a community garden for Lisburn people who do not have gardens, send everyone in Lisburn a free low energy light bulb and donate money to charities including the USPCA'.
Orla would 'tackle the problem of litter by holding a special fundraising event where schools tidy up their local area, build more play parks and would listen to anyone with an idea to help improve the community'.
The girls were collected from school by the Mayor's official car, driven to the Mayor's Parlour and introduced to Mr. Lunn.
The first task on their hectic schedule was to accompany the Mayor to a photo shoot at the Council headquarters for 'Bike to Work Week'.
Then it was off to BFBS Community Radio to see how the station works and meet the presenters.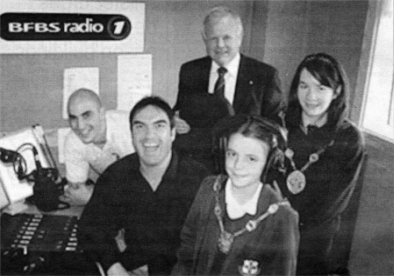 After attending Lisburn Institute's graduation ceremony at Lagan Valley Island and enjoying a spot of lunch, the young 'Mayors' visited the city's PSNI station where they zoomed in on the City centre with CCTV operators. They also enjoyed a ride in a police car.
Following a well deserved short break at home, Orla and Rebecca were taken to the Lagan Valley LeisurePlex to start Lisburn's Half Marathon and Fun Run. Mr. Lunn was delighted with the way in which the girls carried out his duties: "I could not have thought of a better way to spend my penultimate day as Mayor than to share it with my two young Mayors. They conducted themselves with great maturity and enthusiasm and they thoroughly deserved the attention they received," he added.
"I know they had a great time and I certainly appreciated their help. It is important to keep in touch with our City's youth and this programme of school visits is reinforcing this connection year after year."
Mr. Lunn also thanked all the primary schools involved in this year" school visits to the council and the children who composed the short stories for the competition. "I thoroughly enjoyed every aspect of the school visits and it was one of the many highlights during my time as Mayor," he said.