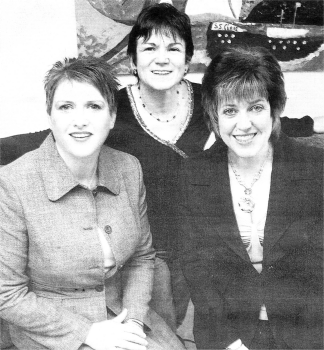 Tracey Ashfield, left, and Maggie Ross, right,
Palliative Care nurse specialists, with Dr Aine McNeill.
A TEAM from Down Lisburn Trust has left for Romania to help train health professionals there on paliative care.
Tracey Ashfield and Maggie Ross, who are Palliative Care nurse specialists, left at the weekend with Dr Aine McNeill.
This year the Trust's Chairman's Charity has supported the palliative care team in fundraising for similar services in Timisoara, Romania.
Provide
The charity has helped to provide equipment and support palliative care education initiatives in Timisoara.
The aim is to promote palliative care which looks after the needs of those with life-limiting illnesses, for example cancer, moto neurone disease, chronic obstructive airway disease, heart failure and so on.
The team hope to help interested professionals to set up and develop palliative car services in their local area.
The local trio will run further training for health professionals there and will be providing education sessions to doctors and nurse on palliative care, managing pain and the practical use of syringe drivers.