PUPILS GET INQUISITIVE ON A VISIT TO THE MAYOR'S OFFICE
| | |
| --- | --- |
| | |
| In the Mayor's Parlour are the winners of the `look and listen' quiz from St. Colman's Primary School; Anna Friel, Ryan McNulty and Caroline Hughes. | Swapping seats with the Mayor is Ryan McNulty who came first in the Mayor's quiz during the visit to Lagan Valley Island by St. Colman's Primary School. |
INQUISITIVE children from St Colman's Primary School were keen to learn all there was to know about the Mayor, including whether he belonged to the Alliance and Leicester party, when they paid a visit to the Council offices last week as part of the Mayor's `Look and Listen' visits.
As part of this year's programme, the children sat in the Council chamber in Elected Members' seats and had a free reign to ask Cllr Trevor Lunn any question they liked.
Reflecting on this year's visits the Mayor said: "It was lovely to meet so many of our young people and to let them see what my job as Mayor involves.
"For me the most interesting part has been the question and answer session with the children. As well as the obvious questions there have been a few surprising ones like 'Do you live in a mansion? Have any Mayors been murdered? Is your party the Alliance and Leicester? Plus many interesting and thoughtful questions. "The quiz has also been a very valuable exercise whereby the children are asked to suggest what they would improve in Lisburn or what they would like to see new in our City."
During the visits the children attended workshops called the 'Mayor's Mini Masterpiece Art Competition', where they were encouraged to draw inspiration from their experiences of Lisburn and to design an alternative to the Council Crest.
A selection of artwork from each school will be displayed in an exhibition of work in the Community Arts Walkway at Island Arts Centre this month.
Children were also invited to take part in a 'Mayor for the Day' short story competition. The overall winner will see first hand what it is really like to be Mayor by accompanying him on his Mayoral engagements.
Mr Lunn said: "I have been enormously impressed by their original ideas and the fantastic new Crests they have come up with. I look forward to judging the Mayor for Day short story competition and handing over the chain of office to the winner for a day."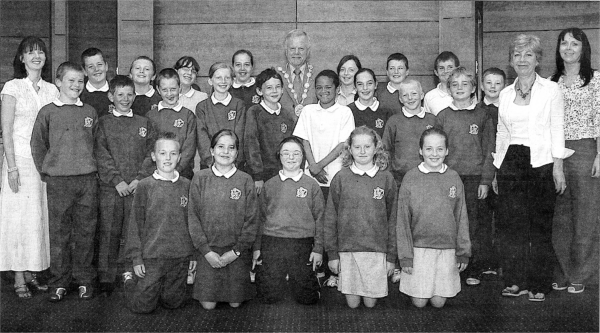 Students from St. Colman's Primary School, Lambeg in the Council Chamber with the Mayor, Councillor Trevor Lunn, their teacher; Ms Gallen and Classroom Assistants.